6 Program Design Tools for Your Business's App
Program design tools are systems that enable businesses to create and maintain their products. To build an effective mobile app, companies must find the right program design tools for their needs. Selecting the perfect tool can be a challenge, but narrowing down your exact needs is the first step. 
The first thing users notice when seeing a mobile app for the first time is how it looks. 
Businesses that are developing mobile apps need the right skillset, the perfect amount of creativity, and the best program design tools. Flowcharts, decision trees, and tables are some of the ways businesses plan out their designs, but for companies looking further ahead, a program design tool has all of the steps in one place. 
With all of the program design tools out there, it can be difficult to find the best tool for your particular business needs. 
If your business is not sure where to start, check out these program design tools that are proven fits for all types of businesses. 
Six tools in particular that help facilitate program design projects include: 
BuildFire
Origami Studio
Sketch
Adobe Experience Design
Flinto
InVision
Need help selecting a company?
Based on your budget, timeline, and specifications we can help you build a shortlist of companies that perfectly matches your project needs. Get started by submitting your project details.
Get Started
BuildFire Creates Intuitive and Custom Apps
As an end-to-end app development platform, BuildFire is one of the more customizable program design tools that allow users to build apps.  Mobile app designers can create working prototypes of iOS and Android apps using the system's transparent interface.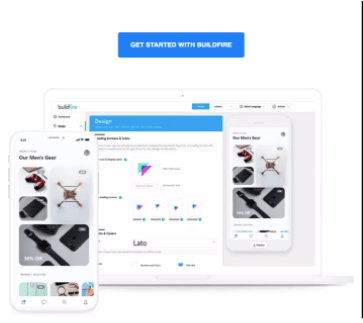 Source Users can upload their own designs, colors, and fonts to create their own functioning app that they can publish right from BuildFire to their app store of choice. If a business isn't ready to publish their app, the system helps users create flow charts and feature sets for future use.  Some developers have created employee communication, fitness tracking, and healthcare apps, like Children's National Medical Center, using the service.  With its rapid mobile app creation capabilities, app makers of all skill levels can create intuitive apps quickly and with their app's budget. 
Origami Studio Builds Modern Interfaces
Created by Facebook Engineers, Origami Studio is a user interface design platform that allows users to design, animate, and prototype all in one portal.  It is an interactive platform that allows for close collaboration through sharing capabilities, dynamic editing tools, and screenrecord options.  Canvas is its new tool where developers and designers can execute on their program design. Designers can visually iterate their mobile app layouts by playing around with freeform drawing tools, text editing, and other visual components.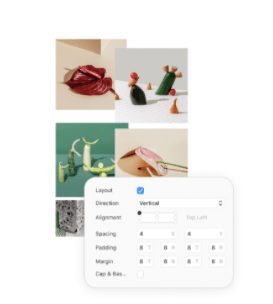 Source For businesses looking to deliver lively and powerful visual elements, Origami Studio might be the top choice for program design. 
Sketch Supports Design and Collaboration
Starting as a Mac application, Sketch was built mainly for app prototyping and wireframing. It's now a fully integrated design platform that works with any web browser.  It features a number of tools for program design needs, including a real-time collaboration tool that documents all work within their Workspace feature.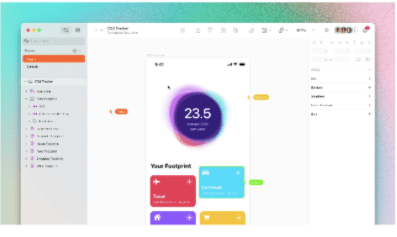 Source In Workspaces, users can store their drafts, share and discuss prototypes with their collaborators, and work between web and mobile. Users can also make flowcharts using several templates available for use.  For companies looking for a simple to use and accessible collaboration tool, Sketch might be the right choice for your design team. 
Adobe Experience Design Turns Ideas into Experiences
Adobe XD provides a suite of features of other design platforms. The interactive tool provides curated features that every program designer wants as part of their workflow.  For example, mobile app designers can easily create sketch wireframes or mockup designs within the collaborative design tool.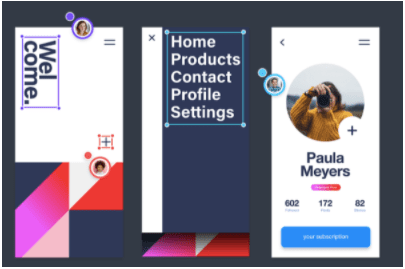 Source Along with designing layouts, creators can add animations, move their work into 3D spaces, and import their work from other Adobe-owned tools. The platform also makes program design projects accessible through co-editing capabilities and shareable design specs. One of the newer features allows users to add their own outside plugins and app integrations.  For businesses with Photoshop-skilled teammates, the next logical step might be to download an Adobe XD free trial. 
Flinto Makes Interactive Prototypes
Flinto prides itself as the app design app for the top designers all over the world. As a Mac-based design tool, Flinto supports prototype previewing at a fast speed.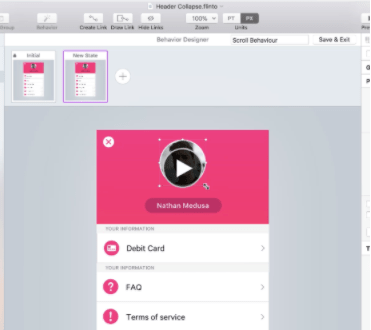 Source  Flinto is a fully-functional digital platform. Designers can import sound and video effects to their prototypes. Users can also include animated transitions, 3D rotation, and mobile-specific interactions.  Businesses can preview their work in real-time using the web app's corresponding iOS application. 
InVision Streamlines Creative Workflows
Turn your static designs into clickable and interactive prototypes with InVision.  The digital experience tool has been used to design some of the big digital platforms including Netflix, Spotify, and Amazon. Your business can follow suit by using InVision's digital whiteboard tool that allows for fast and interactive program design collaboration.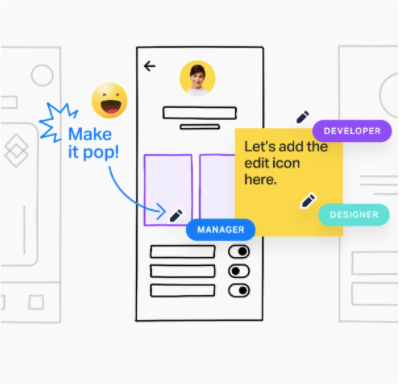 Source The unified system allows for developers and other teammates to provide their input and feedback to ensure the project stays on track.  InVision also can connect to existing workflows and tools to streamline the entire app or program development process. Designs can also connect to specific code within the platform.  Businesses committed to close collaboration and focused on bringing all of their principles together should consider InVision.
Choose the Right Design Platform  Based on Your Program Design Projects 
For businesses looking to bring their mobile apps to life, selecting the right program design tools is the first and most important step. Companies need to consider what they're looking for when it comes to the selection process.  Think about business needs and align on team goals – using that strategic approach and putting together a mobile content marketing plan will make finding the perfect program design tool seamless. 
Need help selecting a company?
Based on your budget, timeline, and specifications we can help you build a shortlist of companies that perfectly matches your project needs. Get started by submitting your project details.
Get Started