How To Get Your App Featured In An App Store
Getting your app featured on the App Store and Google Play is essential to getting users to download your app. Follow these 5 steps to get your app featured on either app store. 
Mobile phones are part of everyday life. As of 2023, the number of smartphone users is estimated to be around 6.8 billion worldwide. That massive real estate provides an abundance of opportunities for hard-working developers and business owners.
Successfully launching an app nowadays is contrastingly both not easy and easy at the same time. That may sound complicated but read through this article first to understand why.
There are millions upon millions of applications in app stores, both on Google Play and The App Store. With most businesses setting up apps to best reach their customers and game developers debuting new creations, the market is undoubtedly crowded.
The sheer number of apps available makes it a hard and daunting task for new apps to gain significant market share. However, new features and tools also make it more realistic for apps to get the spotlight they deserve.
It's a great achievement for any developer or business to see their app perform well. After all, it's not just bragging rights about being a top-performing app but also a concrete affirmation of hard work paying off.
Having a good mobile app marketing strategy is not enough to get thousands of downloads. There are many steps to getting your app featured in an app store but follow them successfully and you might find your app in the limelight. In this article, you will learn more about the competitive app market and how to acquire more customers. 
Looking to build a mobile app? Connect with an app development company on Top Design Firms.
Need help selecting a company?
Based on your budget, timeline, and specifications we can help you build a shortlist of companies that perfectly matches your project needs. Get started by submitting your project details.
Get Started
What Are The Benefits of Getting Your App Featured On An App Store?
Having your app featured in either app store is the best way to reach more potential users, it should be part of your objective when launching a new app along with an effective mobile marketing strategy.
Being featured on an app store can help spread the word about your app, increase visibility, better click-through rates, and boost the number of downloads. That means, lower user acquisition costs for you and potentially increased revenue.
On Apple, another benefit of having your app spotlighted in the App Store is that it receives a mark of authentication, a sign to potential customers that your app is of high quality. An authentication mark enhances the odds that users will install your app because it's trusted by the app store.
Before you aim to be in the top charts, you need to know how to publish your app on Apple. Take a look at this piece to know every step there is: "How To Publish Your App On Apple's App Store In 8 Steps"
Understanding Android vs. iOS
Essentially, the app economy is controlled by the two companies, and understanding their requirements is a must if you want to have a successful mobile app. 
The most prominent operating systems in the globe are Apple iOS and Android Operating System. Android apps can be downloaded from the Google Play store, while iOS apps can be found on the App Store. The two technology giants have a chokehold on the mobile market outside of China. In the past, these two behemoths have preinstalled apps on their operating systems but they've since opened the market for third-party developers to publish their own apps.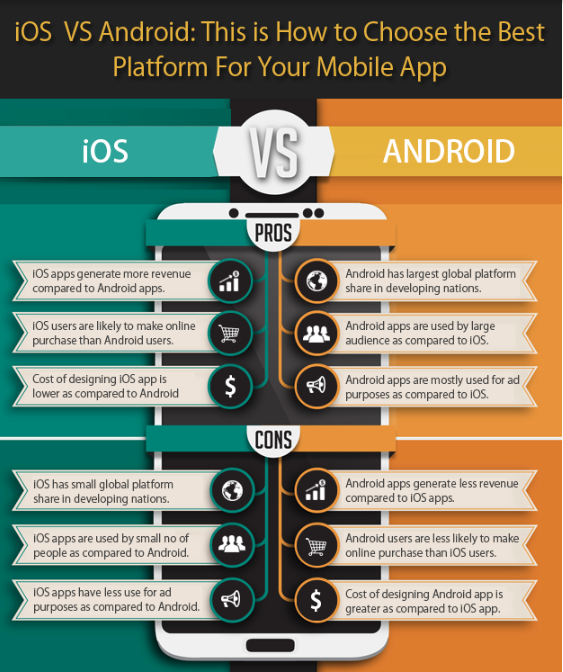 Source
Android apps are great because they're used by a large audience internationally. However, Apple has a huge ecosystem of iOS apps meant for iPad, iPhone, Apple Watch, and other Apple products. If you've penetrated their tight wall and get highlighted as the app of the day, you're bound to hit gold. Choosing which platform is right for your business depends on your business goals.  
Of course, some businesses choose to build hybrid apps that can be published on both the App Store and Google Play, further expanding their potential audience.
Read more about their differences here: "iPhone vs. Android App Design: What's the Difference?"
According to Statista, Google's Play Store approximately has 2.68 million applications by November 2022. Meanwhile, Apple's App Store has around 1.64 million mobile apps as of the third quarter of 2022, slightly lower figures but still saturated.
Don't be discouraged by those numbers because you can still make it big on the app marketplace. Follow these next steps and see how you can get featured in an app store. 
5 Steps to Getting Your App Featured In An App Store
There are plenty of ways to get your app on the app store's center stage. But these steps are proven to be effective and crucial if you want to take on the crowded app market.
Create a Quality App
Deliver the best user experience. This first step is a no-brainer. App stores want to give their users the finest quality apps, so they won't feature an app that doesn't provide an excellent experience.
An app without purpose won't cut it. You need to make sure that you're launching a high-quality app that's designed well.  Providing a great customer impression through an intuitive user experience and sophisticated user interface can make or break it for your app. 
Users always expect the best apps that perform exceptionally well and are designed beautifully. Keep in mind that they have limited storage capacity, not everyone has 1 terabyte of storage. Every app in the mobile device counts so they keep apps that provide a quality experience.
If you're launching a mobile game, make sure that it has captivating visuals, impactful sound effects, and it has great gameplay.
No Bugs and Continual Updates
A good-looking app with great features still won't perform well if it keeps on breakdown. In line with the first step's reasoning, app stores won't push apps that often have downtime or issues.
No development process ensures a bug-free outcome, so proactively taking care of those is crucial.
Featured apps must be bug-proof. Every feature must be seamless and it should be regularly updated or maintained. Updating your app frequently to eliminate any bugs and errors is good for the app store, users, and you. 
Updates don't always need to include a ton of brand-new features every time though. Small feature implementations will make a big difference. Additionally, it will demonstrate to the app store that you're committed and have the ability to manage the additional users that come with being highlighted.
Optimize App Localizations
The process of customizing your app to appeal to various geographic target audiences is called app localization. If you want to take your mobile app or game global, it is extremely essential.
A simple example of app localization is including different translations. Users like downloading apps in their own language. Therefore, localizing an app's listing by keywords and content to the local language will notably boost an app's chances of being downloaded.
With that being said, localization isn't just about translation; it's about optimizing it for the audience. That means it requires research about the country or region. 
The localization process can be time-consuming but thanks to AI-powered tools like App Rader ASO Tool, you can speed up the process. 
Also, consider how many countries the app can be downloaded in. The more people who can use your app, the more it appeals to Google Play and the App Store.If it's available in more countries, your app has a greater chance of being endorsed by either store. 
Improve Your App Store Product Page
Your app's main home is the product page. One of the most important elements influencing the success of your app is its product page. Before deciding to download your app, people can learn everything there.
You may create a strong first impression with the app's name, subtitle, and icon. Additionally, you include additional information in the app preview videos, pictures, marketing copy, and description.
Tell prospective consumers what makes your app special and why they will enjoy it. Use language that your target audience will understand and appreciate while communicating in a manner consistent with your brand.
Sign Up On The "Get Featured on the App Store" Form 
Last but not least step is signing up on Apple's "Get Featured on the App Store" form. Before you proceed to this step, make sure that you've followed all of the initial steps to have better chances. 
Not everyone is well aware of this form, especially those who are new to app development. However, Google Play doesn't have this option. You will need to work even harder to have your app spotlighted thereby improving the awareness of your app and maintaining high ratings.
Going back, the form will require you to fill in several items and submit different materials such as a presentation, marketing materials, and even a link to your website.
After submitting all of those, Apple will reach out to you asking for further visuals of your app — send them your app's best screenshots and curated promotional materials!
Don't be too complacent yet, it's not time to celebrate as that doesn't guarantee that your app will be featured. Send stunning visuals that you think best promote your app so you have a higher chance of getting highlighted on the app store.
You Did It!
You won't be notified if you get your app featured so keep looking at the app store. If you carefully follow those steps and have your app featured on the app store, congratulations! Not everyone gets that spotlight.
The extra attention your app will receive is well-earned and it will help you generate more revenue. It's a coveted milestone for many developers and business owners so make sure that you maintain the highest standards and rankings for your app to keep that featured spot.
By ensuring that your app continues to perform well and grow, you'll be steadily establishing a great relationship with Apple or Google. Know more about the pros of having your app featured in the App Store here: "3 App Marketing Benefits of Being Featured in the App Store"
Additional reading: 
Need help selecting a company?
Based on your budget, timeline, and specifications we can help you build a shortlist of companies that perfectly matches your project needs. Get started by submitting your project details.
Get Started