8 Instagram Marketing Tips for B2B Companies
The popularity of Instagram marketing for B2B is taking the world by storm, so read this article to find out eight best practices on how to use this platform for B2B growth.
A successful marketing campaign is about meeting customers where they are.
B2B buyers have the purchasing power for their company, but they are still real individuals whose buying behavior has shifted to the digital self-service model. 
This means that B2B buyers use channels for product discovery as when they're buying for themselves and 40% of B2B buyers use social media. 
As a photo-sharing platform with a strong emphasis on visual content, not every B2B company thinks about using Instagram marketing for B2B promotion, but its potential is growing. As a result, more and more companies lay a bet on Instagram marketing for B2B. 
Hire a social media expert to enhance your Instagram marketing efforts. Search leading social media consultants on Top Design Firms.
Need help selecting a company?
Based on your budget, timeline, and specifications we can help you build a shortlist of companies that perfectly matches your project needs. Get started by submitting your project details.
Get Started
Why Use Instagram Marketing for B2B?
As a highly visual platform, Instagram isn't the most popular choice for marketing heavy-text and dry B2B companies. 
However, big B2B companies like Microsoft, Oracle, and Wells Fargo not only have an Instagram presence but also have solid followings, encourage interactions with customers, and even sell services in-app.  
Here are three main reasons to use Instagram marketing for B2B:
Raise brand awareness among potential B2B buyers
With 2 billion monthly active users on Instagram, 83% of whom use the platform for discovering new products or services, the platform has great sales potential for B2B companies to reach their buyers and raise brand awareness.
Plus, Instagrammers are ready to communicate with brands in-app and Meta's own data proves it as Instagram is ranked as the top platform for building relationships with brands, 90% of users follow at least one business, and 70% of users don't mind seeing ads.

Source: Instagram
Help buyers evaluate service providers
It's no secret that the B2B buyer journey is longer than B2C, and it involves an average of 6-10 people to make a purchase decision. When done right, Instagram marketing allows B2B companies to provide potential customers with information, complete their evaluation of products,  and support this long buyer journey.
Keep up with current B2B marketing trends
As specified in the Social Media Marketing Industry report, Instagram is the third-most popular platform for B2B promotion and 63% of B2B marketers want to learn about it. This means that Instagram adoption for the B2B sector is growing.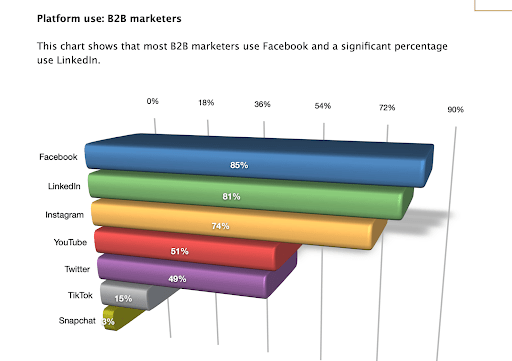 In short, Instagram's potential attracts more and more B2B companies to use this social media platform for marketing services and interacting with potential customers.
Whether you want to create an Instagram presence for your B2B company or seek out Instagram marketing tips to bring your B2B to the next level, here are eight best practices on using Instagram marketing for B2B.
8 Tips for B2B Businesses that use Instagram
Employ Visual Storytelling
Instagram is all about visuals, and most people are visual learners who perceive visual content better than text-based content. 
Moreover, 95% of B2B buyers prefer short and simple visual content, so not only should B2B companies create visuals for their Instagram feeds, but they also should employ visual storytelling to keep these feeds informative and engaging.
Even if your B2B company is all about text content, you can create visuals that contain valuable data while staying eye-catching and informative. Here's how Shopify does it on Instagram: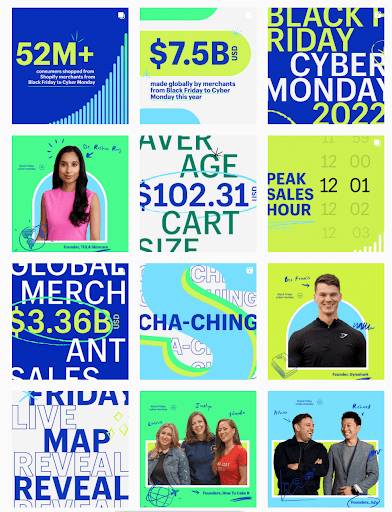 Source: @Shopify
Or you can take the next step and create more videos for your Instagram feed to implement visual storytelling, just like IBM: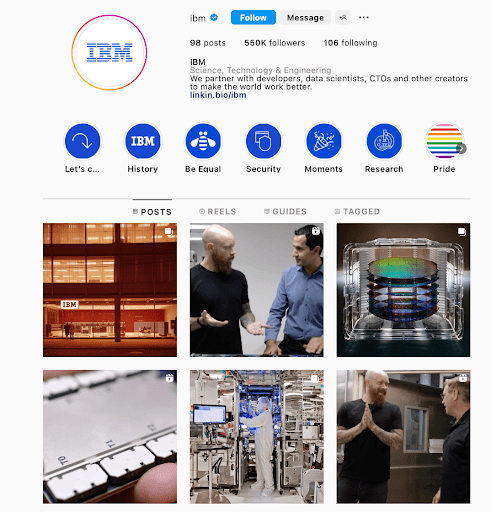 Source: @IBM
For B2B, it can be hard to post regularly on Instagram especially if your product doesn't make sense for a visual platform. However, having a content calendar allows marketers to create and plan posts in advance and therefore makes it easier to employ visual storytelling.
Use Instagram Reels
With its easy-to-digest nature, video content is extremely popular among internet users. Not only does it help viewers understand the text message, but it also educates them in an engaging way.
When it comes to Instagram, users crave video content. As specified in Instagram's own data, 91% of users watch videos in-app and engage with videos from brands weekly.
B2B companies also can make the most out of Instagram videos. The most obvious way for the B2B sector is to create explainer videos that help potential customers learn more about the products or services and evaluate their benefits.
However, B2B companies can also create engaging videos that highlight the benefits of using their services or show these services in action. Let's take a look at the example from Zendesk.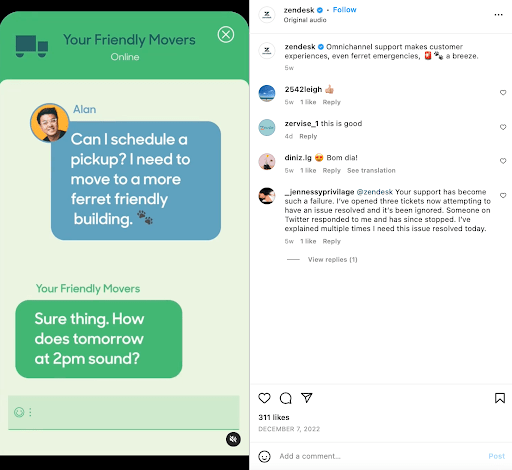 Source: @Zendesk
Instagram videos come in all forms: live streams, long-form IGTV videos, short-form Instagram Story videos, in-feed videos, and engaging Instagram Reels. This variety of videos helps B2B companies of all sizes and niches create the right videos that lead to business growth.
Tell Customer Success Stories
B2B buyers are still common people who seek out social proof before making a purchase decision.
That's why it's a good idea to tell customer success stories on your Instagram profile.
More often than not, a group of buyers represents a B2B company when looking for solutions for its business. With a complex B2B purchase decision, it can be also hard to find company representatives who are ready to share their customer success stories.
The situation changes when you motivate B2B buyers to tell these stories.
For instance, you can take a look at Keap and draw inspiration from them. To get more customer success stories for its business, the small business CRMcompany organized a contest and offered participants a chance to win $1,500 for sharing their video success stories via a special link.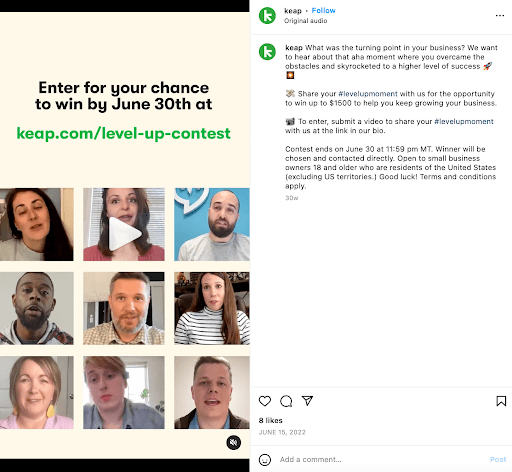 Source: @Keap
After attracting participants who shared their stories on using Keap for business growth, the company asked people permission to share these customer success stories on their profile. Check out an example of this customer testimonial video: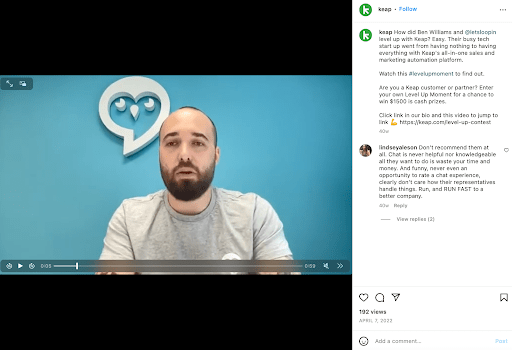 Source: @Keap
And if you want to make sure your customer success stories reach a wider audience of potential customers, you can team up with niche Instagram influencers who can spread the word about your product on their profiles and therefore spark interest in it.
Humanize Your B2B Business
It's the era of authenticity when even B2B buyers crave authentic relationships with companies to become loyal customers. Today, dry B2B businesses should put a human face and show people behind their companies.
One of the easiest (yet powerful) ways to humanize your B2B business is to tell stories about your employees, just like Tailwinapp does it on its Instagram profile. 
The marketing management company has a series of posts in which they introduce team members and share stories about people behind the scenes, just like in the example below: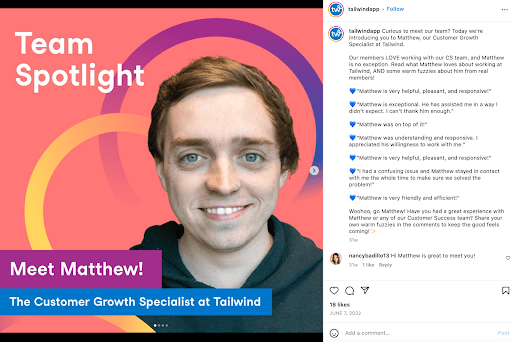 Source: @Tailwindapp
To show the personality of the employees, Tailwindapp includes captions that tell readers more about the featured person as well as lays a bet on a carousel post to add several images that help to perceive information.
If you're looking for more ways on how to humanize your B2B business, consider the following ideas:
Organize a Q&A live session
Show your employees' daily routine
Upload welcome videos with the CEO
Make the Most Out of Ephemeral Content
Ephemeral content, or short-lived content with the lifespan of 24 hours before disappearing, is still a big trend on social media.
Back in 2016, when Instagram implemented its ephemeral content better known as Instagram Stories, no one could have foreseen it could reach 500M daily users.
With a short lifespan of 24 hours, not only do Instagram Stories create a sense of urgency that encourages viewers to consume this content type, but they also drive action among viewers. What is more, Instagram Stories have many in-built features to help companies achieve their goals.
To make the most out of ephemeral content on Instagram for your B2B business, you can learn from Hubspot and offer valuable content to your viewers. With a clickable 'Story' link, you can redirect interested users to the landing page where you can generate different types of leads in exchange for sharing useful content.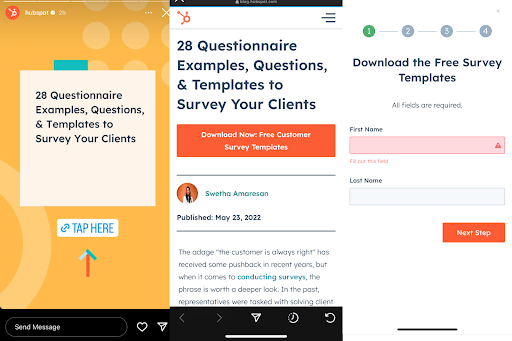 Source: @Hubspot
However, there are many other ways on how to use Instagram Stories for maximum impact: 
understand your customers better with poll stickers
upload short teaser videos about your products or services
include shoppable stickers to provide users with detailed information about prices and product descriptions in-app
Want to know the best part? There's a way to organize your best Instagram Stories into Story Highlights to make them live permanently on your account, right under the bio section. 
Again, learn from Hubspot and create different story highlight albums to group similar posts and therefore help visitors find the right information with ease: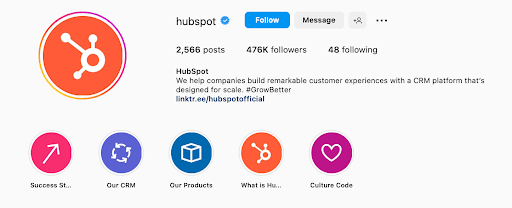 Source: @Hubspot
To create similar Instagram story highlight albums that align with your brand identity and make a cohesive Instagram feed, it's a good idea to make branded Instagram Story templates with the help of easy-to-use graphic editors.
Identify Your Customer Pain Points
Knowing your customers is one of the most effective ways to improve the buyer journey and help them satisfy their needs.
Since people spend a considerable amount of time on Instagram, it's no wonder that users rely on this channel when sharing their pain points. 
Let's take a look at Slack. When the company rolled out a new update, customers used the comment section to share their pain points with the company workers, turning one negative feedback into many: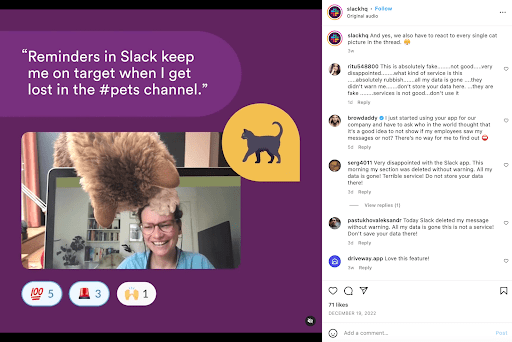 Source: @Slack
When people share their thoughts in the comments or via DM, they give you a chance to identify your customer pain points and therefore improve your business. 
Once you realize that your B2B customers use Instagram for customer support and you get direct messages, comments, or story replies that require action, it's time to optimize your account for customer service.
If you have an in-house team of customer support reps to monitor all inquiries and solve them, that's great. But if you have other customer support channels, it's a good idea to rely on the IVR solution to help worried customers get in touch with the right team member and record valuable feedback to understand pain points better.
Highlight Offers to Influence Buying Decisions
As a group of people should evaluate the product and get approval before making a purchase, the B2B purchase decision process is complex and it may take weeks or months to sell your B2B product.
However, B2B companies also seek out ways on how to save money, so having a time-limited offer can speed up the purchase decision-making process.
Check out how Flodesk used its Instagram community to share a discount code for its product to generate more sales: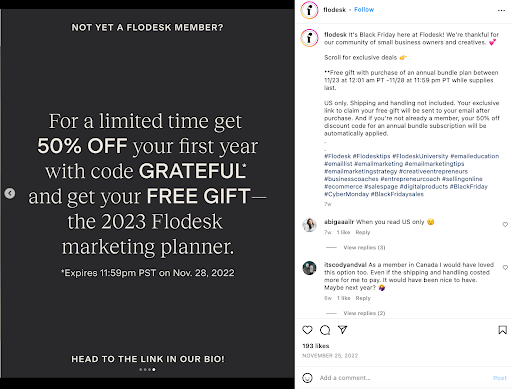 Source: @Flodesk
What makes this example great? The company writes about the offer on the image to grab the attention of potential customers who scroll the feed, includes the offer validity time period, and uses the bio section to add a website link where customers can learn more about the offer.
Run Instagram Lead Generation Ads
Most marketers know that Instagram prioritizes content from friends and families, making it hard for dry B2B businesses to get in touch with their target audience.
However, the platform offers paid ad solutions to cut through the noise and deliver your message to the right audience. Instagram collects around almost 70% of personal data, so it's easy for the platform to show your ad to the right people.
With the lead gen ads, not only B2B businesses can reach audiences, but they also generate leads who show interest in the product. 
Case in point:
To find more corporate coffee machine rentals and coffee bean subscriptions, the B2B coffee company Bliss experimented with Instagram lead generation ads and included a short instant form to get leads. The campaign got a 2.5x higher conversion rate and resulted in a 40% lower cost per lead.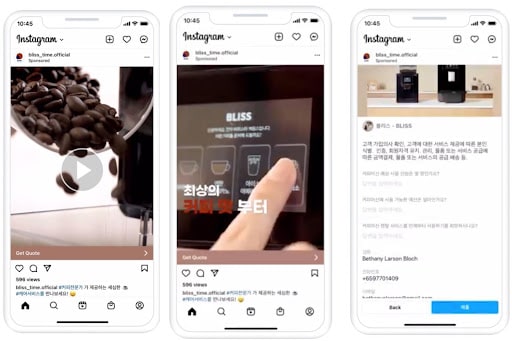 Source: @Bliss
To take the next step, think outside the box. According to the B2B ad case study by Phonexa, creative and fun approaches in ad creation drives results. Thus, don't be afraid and experiment with your ad creative as B2B buyers are humans who want to get real connections that cause emotions.
Make the Most Out of Instagram Marketing for B2B
When done right, Instagram marketing can help B2B companies reach their target audiences, market their products or services in front of the potential customers, and build long-lasting relationships with B2B buyers.
Plus, Instagram has all tools and features to support a longer and more complex B2B buyer journey. Having an Instagram  presence for your B2B company, you can boost brand awareness, increase loyalty or trust, and even influence purchase intent.
By using the above-mentioned best practices on how to use Instagram marketing for B2B, you can bring your business to the next level, leaving your competitors behind.
Additional Reading
Need help selecting a company?
Based on your budget, timeline, and specifications we can help you build a shortlist of companies that perfectly matches your project needs. Get started by submitting your project details.
Get Started