5 Tips for B2B Companies on TikTok
TikTok is a great opportunity for B2B companies to connect with their audience. Here are 5 TikTok B2B ideas to help you create meaningful content that appeals to humans, not businesses.
Consumer-focused companies usually get the limelight on TikTok. As a result, B2B marketers may feel like their company doesn't belong there. 
Yet, like in the B2C space, people at work love engaging with content that reflects their reality. Since TikTok features value-packed short videos, the social media platform presents a great opportunity to engage and delight people during the early stages of the customer journey, regardless of if you're a B2C or B2B company. 
What's more, TikTok can be a great way to let the true personality of your business shine through – particularly in a world where B2B seems to mean "boring-to-boring."
​​​If you're a business owner or marketer in the B2B space looking for TikTok B2B ideas, take a look at how the following B2B giants make incredible use of this new and emerging platform. 
5 Tips for B2B Companies on TikTok
Not sure if you should use TikTok as part of your marketing strategy? Consult with a top digital marketing or social media company to determine if it's the right fit for your business.  
Need help selecting a company?
Based on your budget, timeline, and specifications we can help you build a shortlist of companies that perfectly matches your project needs. Get started by submitting your project details.
Get Started
Follow Popular Trends
Trends are among the most widely implemented TikTok B2B ideas. In fact, a lot of TikTok users' strategy involves nothing but adding their own twist to existing trends. This is a great first step for those who don't know where to start. 
Trends are much more prevalent on TikTok than on other traditional social media channels, such as Instagram or Facebook. When a trend goes viral on TikTok, people join in on the trend in hopes of riding the wave and capitalizing on the viral aspects of existing videos. Trends are an excellent way to garner more impressions for your content.
Here's an example. 
Back in 2020, work-from-home content was popular. Customer Relationship Management (CRM) platform Salesforce put this trend to good use by publishing content that spoofed the life of WFH employees.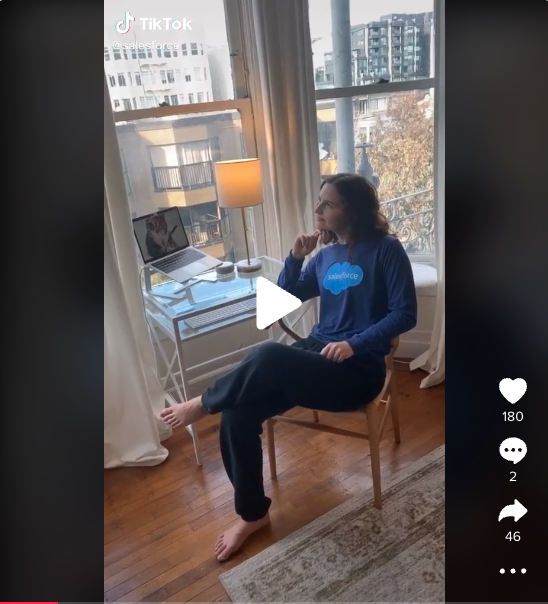 Although Salesforce is about promoting customer success, they followed the trend to stay relevant among TikTok users. They weren't trying to sell a product. Instead, they were trying to connect with their audience.
Partner with Influencers
Influencer marketing is yet another effective use case of TikTok for B2B. 
As a popular example, connected fitness company Peloton, which has a corporate wellness branch that is B2B-focused, partners with fitness instructors like Kendall Toole, who are also well-known fitness influencers. 
With 86% of members increasing their workout frequency with the Peloton app, companies can equip their teams with convenient fitness motivation and instruction. 
The company's TikTok videos promote exactly that: fitness and well-being motivation with a side of humor, powered by Peloton instructors. Every single one of their videos features different influencers and celebrities like Usain Bolt and Lizzo.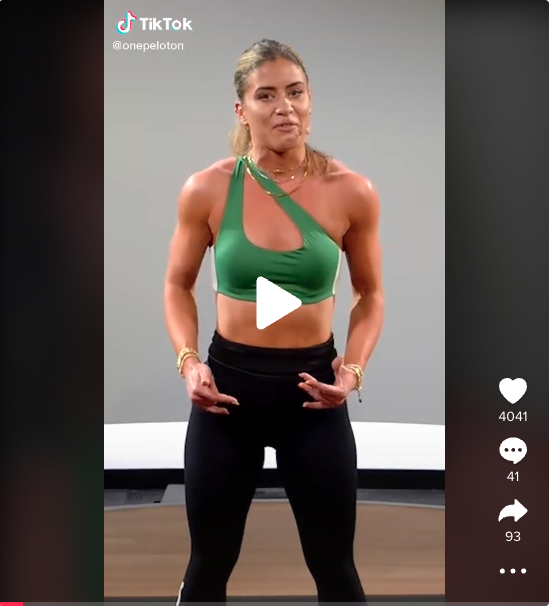 Peloton simply finds fitness influencers that already have an audience who is interested in their products, and they pay them for original content. Although this seems obvious, this is the most important part of your influencer campaign. By choosing creators that have an audience highly relevant to your niche, you can depend less on virality in order to yield good results. 
There are generally two ways to go about finding an influencer for your company. The most common way is to manually search through platforms like TikTok until you come across influencers that fit your criteria.
The second method would be to leverage influencer search tools that help you narrow down results based on filters, this can be a much less time-consuming method of finding and hiring influencers.
Share Tips Related to Your Product
There are a lot of things users didn't know they could do with Google. So much so that Google's TikTok content is centered around simple, yet useful tips on how people can make the most out of their searching experience. 
In the following video, Google uses a popular TikTok effect to show users tips and tricks when it comes to searching on Google.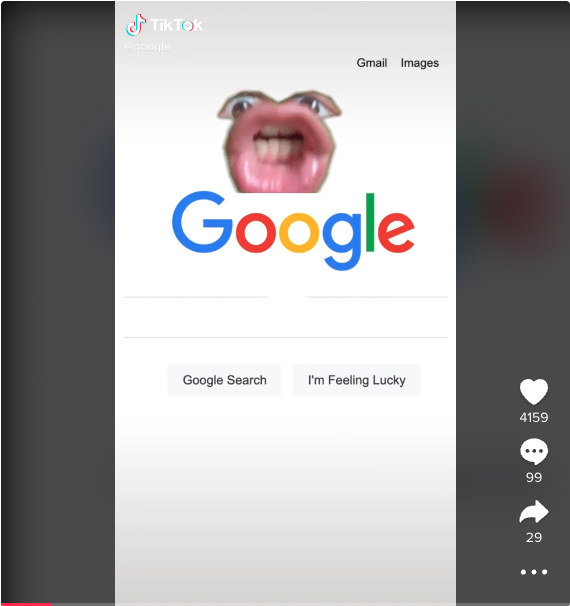 Their videos feature everything from funny Street View screenshots to "a day in the life" mini vlogs, making Google's TikTok endlessly scrollable.
Content that shows users tips and tricks is an excellent way to present your product as a solution to their problem, without coming off as a company that is blatantly advertising their services. 
For example, if you're a marketing agency that specializes in social media marketing, you can create a TikTok video that shows people the best free photo editing software for social media posts. 
By doing this, you position your company as an authority in the space, and if a business does not want to create their own social media content, they might reach out for you to do it for them because you have already displayed a sense of expertise.
Show Use Cases For Your Product
Don't just tell people what your product can do. Show them.
As a video-centered platform, TikTok is the ideal way to provide hands-on demonstrations of how customers are using – and loving – your product. 
The following example from Adobe uses this Tiktok B2B idea to showcase an artist's creative process using Adobe Fresco, a digital painting and drawing app. 
Adobe even has its own tag, #AdobeTok, where users share their own tips and tricks when using programs in Adobe Creative Cloud.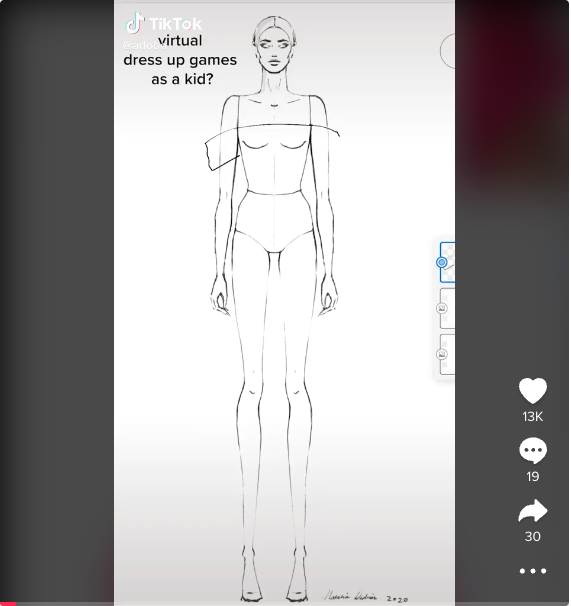 Showing the use-case of your product rather than just talking about it can keep the audience intrigued since they don't feel like they're being sold to. This is an excellent way to show off the power of your product or service without boring the audience.
Create Relatable Content
Because LinkedIn is the world's largest professional network, it's easy to think their content would be formal and professional. In reality, LinkedIn's TikToks are known for their relatable work content sprinkled with hilarious voiceovers and captions. 
Their themes center around annoying bosses, failed job interviews, and waking up late for meetings. Like the video below, which features an unlucky attempt at getting a raise.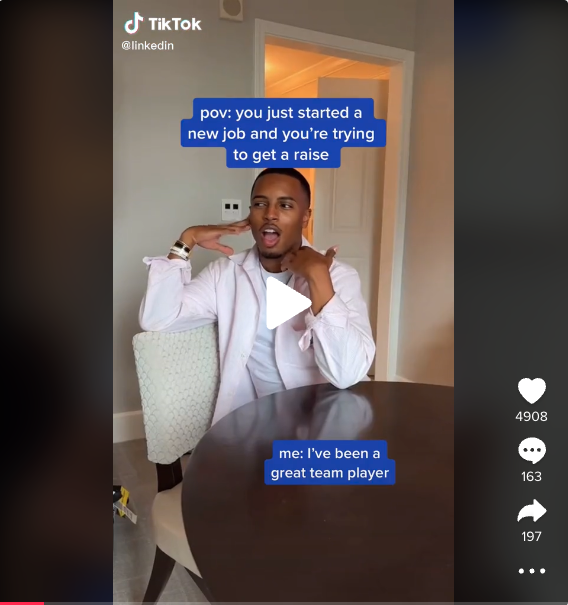 LinkedIn's content strategy is a prime example of catering your content to the audience. The social team at LinkedIn is well-aware that TikTok is primarily used by Gen Zs and Millennials, and in order to appeal to that audience they must create content that they are willing to consume. 
B2B Brands Can Reach a New Audience with TikTok
TikTok videos are a great way to tap into the human connection we all crave. They're all about engaging users with relatable content marketing that displays the casual side of a company.
Especially in B2B, the human factor is a great differentiator in itself. If you'd like to stay competitive, injecting personality into your marketing is the way to go.  
With that in mind, don't be afraid to break free from conventions and apply the above TikTok B2B ideas. After all, whether you're in B2B or B2C, you're always appealing to humans first.
Additional Reading
Need help selecting a company?
Based on your budget, timeline, and specifications we can help you build a shortlist of companies that perfectly matches your project needs. Get started by submitting your project details.
Get Started