Influencer Marketing: 5 Tips To Improve Your Strategy
Statistics suggest that influencer marketing will continue to grow into a dominant marketing tool over the course of the coming months and years, with more enterprises scrambling to embrace this cutting-edge form of social proofing. But how easy is it for your business to embrace the age of the influencer? And what measures should you take?
HubSpot's 2023 Marketing Strategy & Trends Report suggests that influencer marketing will continue to improve on its already strong ROI levels throughout the year. With one-in-four marketers already leveraging influencer campaigns and yielding the second-highest ROI of any trend from the approach, this expected growth should be taken seriously by all endeavors. 
The report suggested that influencer marketing will grow in 2023 with 17% of marketers intent on investing in influencer campaigns for the first time. Furthermore, 89% of marketers already familiar with the approach will either increase or maintain their existing investment levels in the foreseeable future. 
"What we already experienced during the pandemic–when resources were scarce but the ROI on influencer marketing was stronger than traditional digital media–will be further cemented by a recession," said Pierre-Loïc Assayag, CEO and co-founder of influencer marketing platform, Traackr.  
For businesses that are seeking to grow their presence online, influencer marketing represents an excellent opportunity to market to a pre-existing audience on a far greater scale than what's currently available–particularly for startups and small businesses. 
However, it's essential that endeavors are prepared for this shift in approach from more traditional marketing measures. With this in mind, let's take a look at five key ways to ensure that your business is ready to embrace the rise and rise of the influencer: 
Need help building an influencer marketing strategy? Connect with a leading social media consultancy on Top Design Firms. 
Need help selecting a company?
Based on your budget, timeline, and specifications we can help you build a shortlist of companies that perfectly matches your project needs. Get started by submitting your project details.
Get Started
Research the Market Extensively
Here, research is key. There's little use in setting up a collaborative effort with an influencer that doesn't have a sufficient or relevant audience. 
One of the most effective ways to research your targets is to conduct social listening. This can help your brand to identify where people are talking about your industry online and about your business itself. Through social listening, you can find the most influential voices in your industry on any given social platform and assess whether they could be sufficient fits for your strategy. 
When researching your options, look at the kind of influencer that you want. Are you intent on using major celebrities, or more interested in targeting micro-influencers who have fewer than 2,000 followers? While it can be tempting to look at major influencers, those with smaller volumes of followers but relevant industries can command a more passionate and engaged fan base that may respond better to your marketing materials. 
You must also think about your expected ROI when it comes to influencer campaigns. Look at how you can gauge the contributions of influencer posts as a means of achieving your overall campaign goals. It's also worth looking at how competitors use influencers to assess the scale of your intended campaigns. 
Utilize the Right Tools for Success
As the technology continues to mature, it can be easy for brands to be overawed by the social channels available to them and the processes required to get in contact with available influencers. 
However, there are a growing number of tools available to aid businesses in their pursuit of finding the ideal match for their influencer marketing efforts. 

Platforms like Brandwatch, CreatorIQ, Heepsy, Pitchbox, and Sprout Social can all aid businesses in many areas of influencer marketing–from pitching to content creators to analyzing the impact of campaigns. 
As any business that's ever conducted social listening will testify, keeping up to date with social media sentiment can be virtually impossible, but with the right range of digital tools the task of managing campaigns can be considerably easier. 
Establish Clear Goals
One of the biggest issues with establishing an influencer marketing campaign is that brands dive into pitching to their chosen influencer without taking the time to consider what they actually want to achieve. 
Do you want to reach new target customers? Drive new sales? Increase brand awareness? Or get new users to sign up to a mailing list? 
Here, it's essential that your paid content and influencer marketing strategy align with pre-determined campaign goals. You'll also need to figure out exactly how to measure your progress in relation to your goals.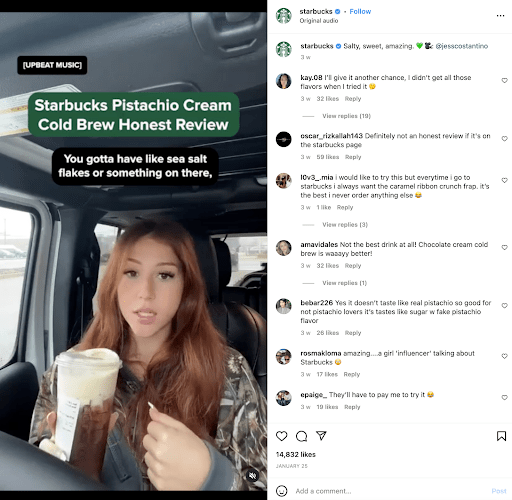 Here, we can see an example of Starbucks using micro-influencer, Jess Constantino, to promote a new product. By delivering a positive review of a new product, the campaign can work in delivering a social proof to encourage more users to try the item. 
Retrain Your Employees
If your brand is yet to engage in influencer marketing, it's essential that your marketing team is aware of how to approach the task of managing campaigns, measuring results, and pitching to influencers. 
You may need to undergo retraining within existing teams, or take on new employees to specialize in influencer campaigns. Here, it could be worth utilizing VR onboarding programs as a means of helping new recruits to better understand essential matters regarding company culture and ethical policy that it's imperative to communicate to chosen influencers. 
The beauty of influencer marketing is that it's a landscape that's continually growing and evolving. This means that the task of retraining or recruiting new specialists in the field is likely to continue to pay dividends long into the future. It can also pave the way for a far more slick process in securing more meaningful long-term relationships with content creators. 
Always Stay True to Your Vetting Process
When you begin a campaign with an influencer, you're essentially placing your brand in their hands. This can be an excellent way of enabling your brand to travel further and become exposed to new audiences, but it also means that your company is out of your direct control–at least in terms of marketing. 
This means that your chosen influencers are your brand ambassadors, and any negative press surrounding them will directly impact your reputation too. Although an influencer could have a following of 500,000 on Twitter and may offer a low entry fee when it comes to launching campaigns, it's absolutely imperative that enough background research has been conducted before launching your collaboration. 
Any historic tweets or posts from an influencer that may not align with your brand's ethics could come back to haunt you at any time, and it's best to err on the side of caution when presented with moral gray areas. 
Embracing the Influencer Boom
Although it may seem like a daunting prospect for businesses that are yet to fully embrace the influencer boom, launching collaborative campaigns are an excellent way of creating a social proof of a new product, or generating far greater awareness of a startup or small business. 
In putting your brand in the hands of an influencer, you can ensure that their followers engage directly with your company in a positive and managed manner that could lead to achieving goals faster and establishing a more rewarding long-term relationship with remote ambassadors over time. 
Additional Reading 
Need help selecting a company?
Based on your budget, timeline, and specifications we can help you build a shortlist of companies that perfectly matches your project needs. Get started by submitting your project details.
Get Started