10 Hospitality Marketing Trends That Boost Bookings
As the summer approaches, businesses in the hospitality industry need to invest more in their marketing strategy. Here's a list of how industry leaders are investing in hospitality marketing this year. 
As the COVID-19 pandemic wanes, people are going out to eat and are beginning to travel again. As a result, the hospitality industry is finally rebounding after two long years.
For restaurants, hotels, bars, travel agencies, resorts, transportation companies, and tour operators who struggled during the pandemic, attracting new and returning visitors is key to making the most out of the summer travel boom.  
This article outlines how leaders in the hospitality industry are planning to grow their business in 2022. 
Need help selecting a company?
Based on your budget, timeline, and specifications we can help you build a shortlist of companies that perfectly matches your project needs. Get started by submitting your project details.
Get Started
What is Hospitality Marketing? 
In many ways, marketing a hospitality business isn't that different from marketing in other industries — both aim to promote companies, products, and services. However, hospitality marketing focuses on providing the ultimate customer experience and connecting with customers. 
Is your business in the hospitality industry? Get ahead of the summer rush by hiring a marketing agency. Check out our list of digital marketing companies to find the perfect partner for your business. 
10 Trends in Hospitality Marketing 
Chatbots
More and more hospitality brands are incorporating chatbots onto their website to enhance the customer experience. 
Across industries, chatbots are becoming popular because they're able to answer questions and provide customer service 24/7. As a result, they provide a smoother customer journey and often lead to higher customer satisfaction and higher conversion rates. 
In 2017, hotel company Mercure, launched a chatbot through Facebook and Messenger that made recommendations for hotel visitors.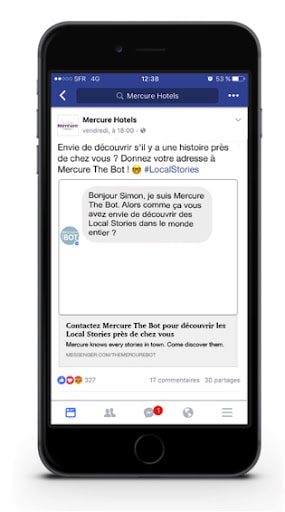 Source: Accor 
Like a concierge, customers could ask about food, history, and locations to visit around the hotel they were staying in. For example, users were able to ask questions such as, "What's behind the facade of 145 rue Lafayette?" and  "Where is the world's smallest nightclub?"
The hope was that the Mercure BOT would enhance a visitor's trip and leave a lasting impression. As a result, visitors would be more likely to return or tell their friends about their trip. 
Voice search 
Have you used Siri, Alexa, or Cortana? These are forms of voice search – a type of voice recognition technology that allows users to enable devices or search the web simply with their voice. 
It's estimated that 72% of consumers use voice search through digital assistants, making it an important way for hospitality companies to connect with their customers. 
Recently, hospitality companies have been investing in voice search technology to improve the customer experience and SEO, which will drive more traffic to their site. 
For example, the travel website KAYAK launched a voice search skill for Amazon Alexa, allowing travelers to search for flights, hotels, and rental cars. 
After about a year, they updated the platform to allow users to book rooms and flights using just their voice. 
The additional voice search feature makes the trip planning process easier and more accessible for users. They simply have to ask, "Alexa, ask KAYAK how much a business class ticket is to Miami?" 
Influencer Marketing 
Influencers are the new celebrities — with a reach spanning millions of followers, they're able to affect purchasing decisions and spike interest. 
Influencer marketing is particularly effective for the hospitality industry because they promote a certain lifestyle and brand. Nearly all businesses — from restaurants and hotels to theme parks and event planners — can benefit from influencer marketing and grow their brand awareness online. 
The visual aspect of platforms like Instagram and TikTok can encourage consumers to book travel plans and 
Recently, the resort, Grand Velas Riviera Nayarit partnered with Eric Stoen, a travel influencer with over 335k followers to promote their business.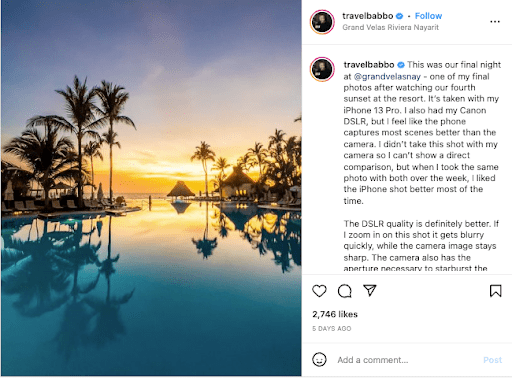 Source: @travelbabbo
Stoen posted a sunset picture of the resort, earning nearly 3,000 likes. In doing so, he inspired wanderlust among his followers. 
Posts like this are appealing to potential guests and can motivate them to visit resorts like this on their own. 
Learn more about influencer marketing by reading, '5 Types of Influencers for Social Media Success.'
User-generated content
User-generated content, or consumer-generated content, is when customers post online about a product or service, which can help promote a business. 
In fact, studies have shown that consumers trust user-generated content more than other forms of media. 
As a result, user-generated marketing content is a great way for businesses to engage with customers and build trust in their brand. 
Hyatt took advantage of this trend by creating a hashtag campaign called #InAHyattWorld. The Hyatt team went out of their way to provide additional support for guests. Then they posted pictures on social media with the hashtag to highlight their customer service. 
Guests quickly caught on and started using the hashtag as well. This became a great way for Hyatt to gather content and repost from their accounts.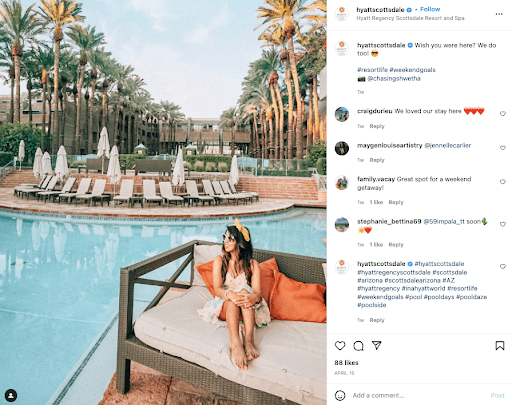 Source: @hyattscottsdale
For example, Hyatt Scottsdale reshared this post from @chasinghswetha, a travel and photography blogger who stayed at their hotel. 
The post showcases the resort's beauty and amenities, which could appeal to followers and motivate them to make a reservation for their next trip to Scottsdale, Arizona.  
 
Additional reading, '4 Ways to Encourage Consumer Generated Marketing Content.'
QR Codes
QR codes became popular in restaurants during the pandemic because they were a contactless way for customers to order their meal. However, unlike many pandemic trends, this one is likely here to stay. 
What was once a pandemic necessity, QR codes have added value for restaurants looking to provide better customer service and connect with their customers. 
Customers can start orders and pay on their own time, which really helps businesses operate at a high volume. It saves servers time, which allows them to provide better service.
As a result, customers generally have a better experience because they don't face long waits. As a bonus, QR codes make it easier to turn over tables, which increases profits. 
However, QR codes also help restaurants stay in touch with customers by capturing email addresses and enrolling guests in loyalty programs. 
Restaurants can then set up email automation to promote deals, send thank you emails, SMS messages, promo codes, and other marketing materials that will make it more likely for customers to return. 
Video Marketing 
Video marketing is a very effective way for hospitality businesses to market themselves online, thanks to the medium's growing popularity the amount of time people spend watching videos has increased by 59% between 2016 and 2019. 
Hospitality companies looking to market their services may want to turn to video to reach their customers across various platforms. Video content can be used on their website, social media accounts, and more. 
Hospitality businesses can use video to answer questions, educate their customers, and display testimonials. 
For example, the event venue Riverside on the Potomac embedded a marketing video on their website. 
The 3-minute video provides a historical background, showcases the venue, and explains how many guests they can host. 
In just a few minutes, they can present a lot of information, so potential renters don't have to search the site to find the answers to their questions. 
Additional reading, 'How to Find & Hire Video Marketing Services.'
AR/VR
Augmented (AR) and virtual reality (VR) technology became popular in the hospitality industry during the COVID-19 pandemic because it allowed customers to experience locations from afar. 
Now hospitality companies use this AR/VR technology as part of their hospitality marketing strategy. By creating a VR experience, companies can showcase their venues, advertising activities, and encourage potential guests to explore events near their venue. 
As a result, they hope to encourage bookings from people who cannot visit in person right away. 
Valhalla Golf Club in Louisville, Kentucky released a VR experience with GOLF+, a virtual reality golf platform available on the Oculus Quest. This experience allows people to play the course virtually.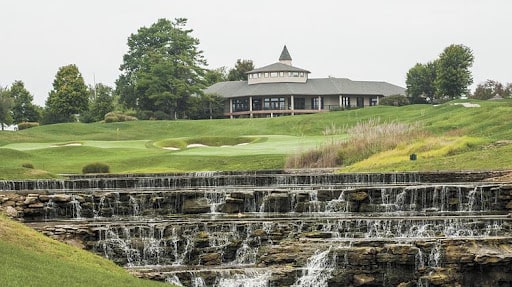 Source: BizJournals
As a site for the 2024 PGA tour, not very many people would have the opportunity to play the Valhalla course in real life. 
However, Ryan Engle, GOLF+ Founder, hopes that this will help grow the sport. In a 2021 article on the PGA's site, Engel said, "Golf's greatest challenge is accessibility, and we believe VR is a promising solution to help grow the game to a new demographic of players." 
By creating a VR version of a well-known course like this, they're able to expand their customer base and hopefully attract bookings. Golf players that have played the course virtually may even be encouraged to book their next golf trip to Tennessee. 
Remarketing
Remarketing, also known as retargeting, is when marketers shift their focus to existing customers and those who have already expressed interest in the business. 
The success rate of converting existing buyers is about 50% higher than converting a new buyer, making it an effective way for hospitality businesses to increase bookings without increasing their marketing budget. 
To take advantage of this, hospitality businesses should keep track of their customer's contact information, names, order history, and demographic information to improve their remarketing strategy. 
Then they will be able to remarket to existing customers by: 
Sending follow-up emails
Personalizing messaging
Cross-sell and upsell based on interests
Improve targeting  
Learn how to use customer relationships management software (CRM) for retargeting customers here.   
Work with travel booking sites 
In January 2022, Booking.com was the most visited travel and tourism site in the world, with nearly 386 billion visitors. Digital travel and tourism platforms allow users to search and book flights, hotels, car rentals, attractions.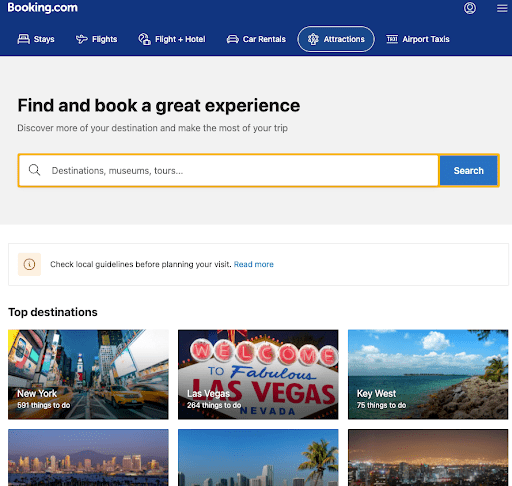 Source: Booking.com
By compiling all of this information in one place for potential guests to view, they create a type of digital billboard.
Even though consumers are more likely to book through their direct website, they often turn to digital booking platforms to conduct research before booking. 
According to research released by Cornell's School of Hotel Administration, booking sites can still impact a buyer's decision even if they book directly through a hotel brand's website. 
Even restaurants and other attractions can benefit from being listed on booking sites. 
If your company isn't already listed on Expedia, Travelocity, or Booking.com, be sure to list your company on their websites. 
Pro Tip: Check your accounts on these sites regularly and respond to reviews. This can help you manage your business's online reputation. 
Additional reading, '3 Ways to Approach Online Presence Management.'
Personalization 
Hospitality is all about making guests feel like they're at home. Using guest information to personalize marketing materials can help guests feel more comfortable. 
They can also create a better customer experience and increase customer loyalty. Here are a few ideas that can help hospitality businesses personalize their marketing content: 
Build guest profiles 
Send pre- and post-stay emails 
Offer custom packages and add-ons
Include customer loyalty packages
Unlike many other industries, hospitality companies engage directly with their customers, which provides an opportunity for staff to interact with guests. 
Instead of just personalizing marketing materials, hospitality companies can also personalize these engagements. For example, they can improve the customer experience by:
Using guest names 
Leaving handwritten notes
Offering discounts in locations guests frequently visit 
Provide specific recommendations for guests
These subtle ways to personalize a guest experience can increase their satisfaction and the likelihood that they will book again. 
Hospitality Marketing Provides a Better Customer Experience
The hospitality industry is different from others in that it focuses almost entirely on the customer's experience. As such, companies must cater to their guest's needs to market their business. 
By investing in technology, such as chatbots, voice search, and AR/VR, hospitality companies can provide better customer service and increase bookings. 
Other digital marketing strategies such as influencer marketing, content marketing, and email marketing can help hospitality businesses spread the word about their services. 
Implementing these hospitality marketing strategies will catch a potential guest's eye and increase bookings.  
Looking for a marketing company to expand your business's reach? Check out our list of digital marketing companies to find the perfect partner for your business. 
Additional reading
Need help selecting a company?
Based on your budget, timeline, and specifications we can help you build a shortlist of companies that perfectly matches your project needs. Get started by submitting your project details.
Get Started