6 Email Marketing Tips: Email Signature Branding
As a key part of your email design, your signature branding should reflect your brand's image and clearly introduce who you are to your correspondents. Follow these tips to appear professional and improve your credibility.
A single interaction can determine how someone views a company or a brand, whether you're recruiting top talent, networking with partners, or providing customer service support. 
With 98% of customers using email, how you present your business online is key to your ongoing success. 
Email signatures are important because they're the digital equivalent of a digital business card. They help introduce who you are and what you do to people outside of your organization 
Signature branding is all about representing your business well to outside parties, such as customers and partners. A professional email signature can improve your credibility and grow brand recognition. 
6 Tips to Follow When Implementing Signature Email Branding
Follow brand guidelines
Create a template
Add clickable icons 
Keep it simple
Create a hierarchy of information
Optimize for mobile 
Need help selecting a company?
Based on your budget, timeline, and specifications we can help you build a shortlist of companies that perfectly matches your project needs. Get started by submitting your project details.
Get Started
1. Follow Brand Guidelines 
If you're emailing a customer or partner, it's likely that they're engaging with other aspects of your business as well — whether that's your website, mobile app, in-person store, or social media accounts. 
In fact, a Forrester study showed that 95% of consumers use at least three channels when engaging in a customer service interaction. 
By following your brand guidelines, you can create consistency across all your platforms. This improves visibility and recognition of your brand. This drives forward the overall perception of the brand. 
You can easily incorporate brand values by adding unique elements to your email signature. For example, you could include brand: 
Logos 
Typography 
Colors 
Iconography 
Profile pictures 
By adding these stylistic elements, you can emphasize your brand and solidify relationships with your customers. 
Many templates, like the one below, allow companies to feature their logo to the left of their information. 

Soure: FitSmallBusiness
They were also able to add their brand color, orange, to highlight the sender's name and their contact information. 
2. Create an Email Signature Template
Branding is all about consistency. All of your employees should use the same template to create uniformity across your company. 
By creating the same look in all of your email signatures, your business will appear more organized and professional. 
Often, customers and business partners interact with more than one person in your company at a time. For example, one customer may need to speak with several people on the customer service team to resolve a problem they're experiencing. 
This will also ensure that no matter who your customers or partners interact with, they will have a similar experience. This reliability is key for developing brand trust. 
3. Add Clickable Icons
By adding clickable icons that link to your website or various social media accounts, you can increase traffic to those brand assets. 
This encourages customers to interact more with your brand, which will help you expand your audience and marketing opportunities.
At the same time, this gives potential customers and partners the opportunity to get to know your brand on a deeper level. People often click on these links to learn more about your business and verify your personal information. 
Consequently, including your LinkedIn or business's profile page is a great way to build credibility. 
This musician, for example, created unique icons that link to her Facebook, Twitter, LinkedIn, YouTube, and Instagram page. Even though she sticks with her brand colors, it's clear to users what each icon represents.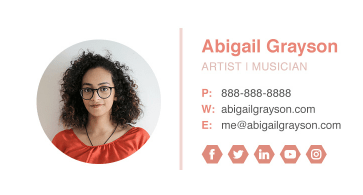 Source: Signature.email
As an artist, social media may be an effective tool to promote her small business because people can watch or listen to examples of her work. Linking to it in her email signature allows potential clients to learn more about her art online. 
4. Keep It Simple
Over the last decade, minimalism has been a consistent digital marketing trend. It's a particularly effective style for email signatures because it clearly communicates the most important information for your readers. 
This minimalist template looks short, but thanks to it's simplistic design, it actually hosts a lot of information. 

Source: Email Signature Rescue
Users can easily access her website, phone, and social media pages. 
It's easy to go overboard by adding inspirational quotes, difficult to read fonts, long titles, and excessive awards. 
This can distract from the rest of your email content and make your employees look less professional. 
Instead, your email signature should only contain the most important information such as your name, title, and phone number. Since it's already included on the email, using your email address would be seen as redundant. 
You can also simplify your design by: 
Only using 1–2 colors
Choosing an easy to read typography
Only choose a few graphic elements 
Use whitespace as dividers 
This will help you create a sleek look that is still very professional.
5. Create a Hierarchy of Information 
Visual hierarchy is when you organize content in order to emphasize the most important information. 
For example, your name is the most important part of your email signature because it helps you build a personal connection with your correspondent. You can emphasize your name by making it larger, placing it at the top of your email signature, or making it a different color. 
The founder and creative director of Perspektiiv Design Co. used this design concept when structuring her email signature.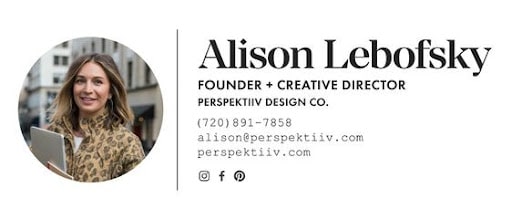 Source: Pinterest
Notice how her name is larger, bolded, and a serif font. In comparison, the rest of her text is in a sans-serif font and is a bit smaller. Her title and company name are bolded as well. 
6. Optimize for Mobile 
According to Statista, people check their emails on their smartphones more frequently than on any other device. 
Because the display on mobile devices is very different from the display on desktop computers, you must design your email signatures with this platform in mind. Ideally, businesses' should be able to fit their email signature on one screen without readers scrolling. 
To optimize your signature for mobile, businesses must think critically about screen size and layout. Here are a few tips to improve your design: 
Minimize images 
Use a more vertical layout 
Separate your addresses on more than one line
Include clickable icons to reduce text 
This should help your signature appear better on mobile devices. 
The articulate solo template from Email Signature Rescue is great for mobile devices because it is more vertically-oriented.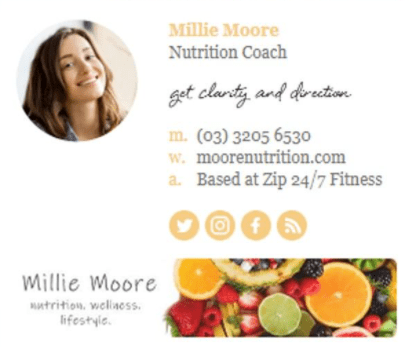 Source: Email Signature Rescue
Even if the email signature was broken up because of the screen size, the design ensures that all of the content would be easy to read. Users would simply scroll down to get to the next bit of information. 
Signature Branding is An Essential Part of Email Design 
Email design can help businesses demonstrate their brand, appear professional, and appeal to more potential customers. 
When designing your next email signature, follow brand guidelines and create a company-wide template to encourage consistency. 
From there, your design should be simple, include clickable icons and be optimized for mobile. 
By following these email signature tips, you can create an email signature design that accurately communicates your brand. 
Contact a digital marketing company to get started on your new email marketing campaign. 
 
Need help selecting a company?
Based on your budget, timeline, and specifications we can help you build a shortlist of companies that perfectly matches your project needs. Get started by submitting your project details.
Get Started