Benefits of Squarespace Email Marketing
Growing your online business can be difficult, but Squarespace email marketing tools help companies create engaging email designs that nurture leads. Here are a few of the benefits of using this platform to promote your business. 
Squarespace, a leading e-commerce web development platform, is a favorite for businesses looking to sell online. Known for how easy it is to design a professional website, nearly 3 million websites have been built using Squarespace. 
However, getting your website off the ground is just the first step in building a business. From there, businesses must promote their products or services, connect with customers, and make sales. 
Back in 2018, Squarespace launched an email marketing platform to help their clients grow their business. 
Email marketing is an effective digital marketing tactic that helps businesses strengthen their brand reputation, nurture leads, and increase sales. 
The new system helps Squarespace users engage their audience by promoting products, releasing newsletters, or even offering discounts on products through email marketing. 
Three years later, Squarespace's email marketing platform is still a great way for e-commerce companies to connect with their customers. Here's why: 
Great UI for content creation
Help businesses promote content
Automation
Provides responsive email layouts
Need help selecting a company?
Based on your budget, timeline, and specifications we can help you build a shortlist of companies that perfectly matches your project needs. Get started by submitting your project details.
Get Started
1. Great User Interface for Content Creation
Email design is all about creating engaging content that captures your audience's attention and helps you grow brand recognition. 
By carefully organising the layout and visual elements of your email, you can create aesthetically pleasing content that engages your subscribers. 
Squarespace's email marketing platform makes designing email content extremely easy. Similar to their web design platform, their site includes drag-and-drop features that make it easy to edit.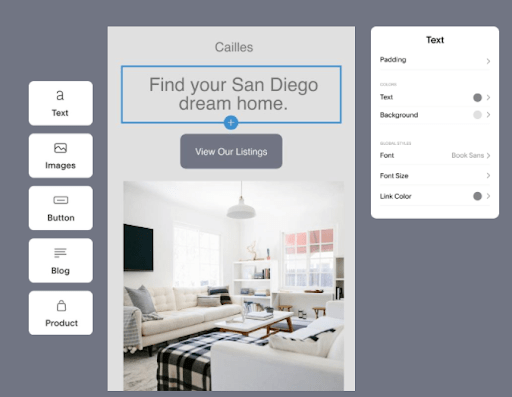 Source: Squarespace
This includes images, buttons, font size, colors, and more. By adding these visual elements, you can easily create branded email content. 
On top of that, Squarespace email marketing allows users to import content from their website. This helps digital marketers create compelling email content that is consistent with the brand messaging on their website.  
Additionally, it saves designers time while reducing the chance of errors in your email marketing campaigns. 
Generally, people engage with a brand through several channels. In addition to your emails, your leads are likely interacting with your e-commerce website, social media pages, or brick-and-mortar store. 
Consequently, it's important to create a consistent look and feel across all of your platforms in order to solidify your brand. Squarespace's tools can help businesses do just that. 
2. Helps Businesses Promote Content
Email marketing, like any other digital marketing strategy, is about growing your audience and converting leads. Squarespace's email marketing platform has several features that make it easy to promote your content and grow your business online. 
For example, Squarespace has several newsletter blocks or promotional pop-up forms that can help businesses build their list of email leads on their website.   
By integrating your email marketing platform with your Squarespace website, you can easily collect information from potential customers online and use email marketing to nurture them until they make a purchase. 
This also allows you to promote specific content on your website — whether that's a new product or a new article on your blog, you're likely to see an increase traffic on your website and more engagement overall. 
Over time, this can help boost your site's SEO, especially if you're able to use the platform to segment your audience and target specific users. 
Squarespace's contact list management features allow digital marketers to create different email lists associated with different activities. While their segmentation options are still pretty limited, this can help you build new lists for campaigns. 
3. Automation 
Email marketing can take up a lot of time and effort, but automation streamlines the process and makes your email marketing campaigns more effective. 
Squarespace offers several automation tools that can help you build relationships with your customers and nurture your leads. For example, Squarespace users can set up an automation that sends welcome emails and discounts to new customers or subscribers. 
They're also able to automatically personalize emails by adding the recipient's name to the email, which can increase engagement rates and sales. 
The platform also has integrated analytics, which allows digital marketers to measure how their campaign is performing. 
By analyzing open rates and conversions, you can refine your campaigns and improve them over time. 
4. Provides Responsive Email Layouts 
Over the last few years, our reliance on mobile technology has only been increasing. In fact, people check their emails on their smartphones more frequently than on any other device. 
Consequently, all of our email designs need to be made with mobile optimization in mind. Mobile-first design is essential to earning a high return on your investment. This means designing easy-to-read content that can be seen on a smartphone. 
Compared to a desktop, mobile devices have smaller screens and are oriented vertically, versus horizontally. 
Squarespace's mobile-responsive email templates ensure that your emails will look great, whether they're viewed on a mobile device or desktop. 
This provides a positive user experience (UX) and makes it more likely that readers will engage with your email content. 
Squarespace Email Marketing Can Grow Your Business
Email marketing is an effective strategy for businesses looking to engage with customers, promote their products, and increase sales. 
Squarespace email marketing makes it particularly easy for e-commerce companies to collect email leads and design responsive and brand-consistent emails. 
Using this platform, businesses can also automate their campaigns and analyze open rates to ensure an effective outreach program. 
With this tool, they can grow their business by increasing brand awareness and sales. 
Need help selecting a company?
Based on your budget, timeline, and specifications we can help you build a shortlist of companies that perfectly matches your project needs. Get started by submitting your project details.
Get Started