Building Trust: Reputation Management in SEO
For anyone familiar with public relations and the process of building brands, the topic of online reputation management is very important. Yet, you may be surprised to uncover how SEO and reputation management are related. Learn how SEO and reputation management can work hand-in-hand to boost your brand's credibility and online rankings. 
Need help selecting a company?
Based on your budget, timeline, and specifications we can help you build a shortlist of companies that perfectly matches your project needs. Get started by submitting your project details.
Get Started
What is Reputation Management? 
Reputation management is the monitoring and management of a brand's image and online reputation. By monitoring how consumers view your brand, you can seize any opportunities to boost your brand's online image or, if necessary, respond to threats to your brand reputation. 
After all, a few bad online reviews or a negative story can rapidly wreck years of hard work and give your competitors an easy win. 
This article will cover how SEO and reputation management are related as well as how various SEO strategies can improve your reputation management. 
Looking to hire an SEO company? Search leading SEO firms on Top Design Firms. 
How Reputation Management and SEO Work Hand-In-Hand
The most important factor to bear in mind when it comes to constructing a reputation management strategy is just how similar the practice is to SEO. A lot of the processes that are necessary in SEO are also imperative to maintaining a brand's image and reputation. 
Here are a few ways SEO and reputation management overlap. 
Gaining Credibility Through SERPs
The purpose of SEO is to get your brand to the top – or as near as possible – in search results to increase clicks and traffic to your site. 
But SEO is not just about increasing the visibility of your brand –  these days it involves a lot more than the simple placement of keywords. It is also about improving your reputation, gaining credibility, and earning trust. 
Appearing among the first search results on Google not only lends an air of credibility to a brand, it confers relevance and reliability on a website or company.
Similarly, reputation management consists of promoting enough positive stories about a brand so they gain traction and visibility online. This strategy not only boosts the brand's reputation, but it also helps cover any negative publicity as well. 
A noteworthy example of reputation management is Starbucks and their response to two black customers being removed from a Starbucks café in Philadelphia in April 2018 by a white manager, who also called the police.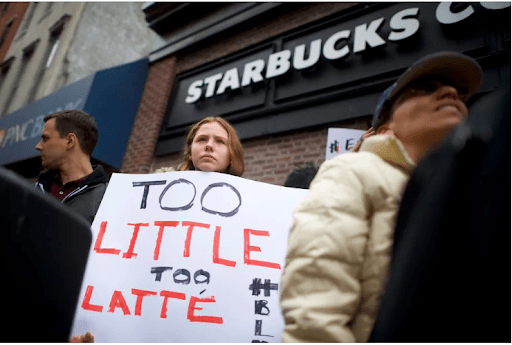 Source: Vox 
To make a shocking situation worse, it turned out the pair were removed after asking to use the toilets – as they were waiting on a business associate to arrive. Starbucks acted quickly by apologizing and reaching a settlement with the men. 
To put a cap on the bad news, the Seattle-based business flooded media outlets and the internet with a raft of good news stories, from the announcement of the elimination of plastic straws in its cafes to the rumor of a possible presidential run for its ex-chairman, Howard Schultz.
However, Starbucks' actions weren't only limited to news releases. The strategy also announced the launch of a new line of 1,000 standalone bakeries under the Princi brand and the introduction of a new Organic Kombucha range under the company's Evolution Fresh juice brand.
Ultimately, their reputation management strategy comprised just some of six good news stories that were published in the weeks following the terrible incident in Philadelphia. 
Described by Jonas Sicker, managing director of consultancy ReputationManagement, as a "textbook crisis management strategy" that was executed perfectly, the use of a barrage of press releases succeeded in changing the narrative and reinforcing a positive image of Starbucks in the process. 
Like SEO, reputation management is all about getting to the top of Google search results and pushing negative publicity down to the realms of the rarely clicked links. In this sense it also makes commercial sense, especially when a brand is involved. 
Content Generation
Content generation is another area that both disciplines clearly have in common. Content is extremely important in reputation management because it helps promote the brand, develop it's image, and more. 
Content, though, does more than just build a company's brand, though. It also can impact the website's online performance. Every aspect of a brand's content – and this includes website pages and blog articles – can be optimized to follow SEO best practices and improve positioning. 
While businesses often have to create content to build their brand's reputation, it can also help them rank online. 
Off-page SEO
Another key crossover is off-page SEO. Unlike on-page SEO which focuses on internal content, off-page SEO aims to improve search engine rankings by building a perception of trustworthiness and authority externally. This involves people, pages, and researchers linking to a brand website via articles, blog posts, studies, surveys, and more.
The more links there are back to a website, the more credible Google and other search engines think the website is. These links also provide an avenue for Google's crawlers to reach the business's website. As a result, the website is more likely to rank on SERPs. 
Therefore, building out your brand's reputation through public relations, events, and more can help improve your search engine rankings. 
Control the Narrative
As with off-page SEO, the central purpose of reputation management is to try to control the narrative around a personal or business brand. For this to succeed, effective reputation management needs to be much more than just a response to a crisis, but rather an integrated, long-term approach. 
While crisis protocols should be in place and ready to go, long-term preparation is key to avoiding irreparable damage to a brand. This means that to succeed, reputation management has to form part of an ongoing strategy centered around generating positive stories and articles that reinforce a feeling of reliability, authenticity, and trustworthiness. Having this bedrock in place enables companies to deal with adverse conditions – as and when they arise – with grace and assertiveness. 
Staying with sports gives us one relatively-recent example of when a story literally exploded and presented a brand with a PR nightmare. During a live, televised basketball game in 2019, Duke University forward Zion Williamson was injured when his Nike sneaker came apart suddenly during the first minute.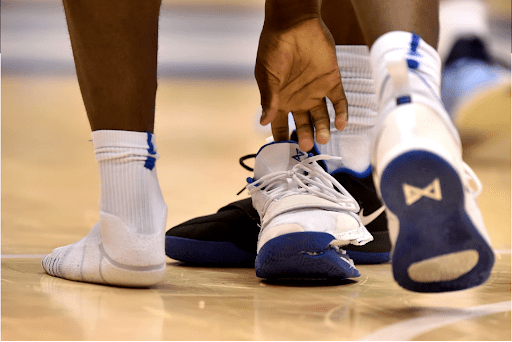 Source: NBC News
The situation quickly got out of hand, with Mario Natarelli, managing director of brand agency MBLM, describing it as a "major brand failure" and $1.1 billion being wiped off Nike's stock value. Not only was Williamson a high-profile hot prospect, it didn't help that former President Barack Obama was sitting court-side at the game – and mentioned it online afterward. 
However, Nike was able to bounce back by launching a line of sports shoes with Williamson himself three years after the incident.
Safeguard Your Company's Online Reputation with SEO Strategies 
The benefits of having devised and implemented an effective SEO and reputation management  strategy are multifold and undeniable. Not only can it Increase brand trust, it also leads to better customer acquisition and retention. Both SEO and brand management strategies can enhance your brand's online reputation, helping attract new customers and retain existing ones. 
A winning reputation management strategy will enhance investor confidence and – if it functions as it should – lead to increased revenue. 
Looking to hire an SEO company? Search leading SEO firms on Top Design Firms. 
Additional Reading
Need help selecting a company?
Based on your budget, timeline, and specifications we can help you build a shortlist of companies that perfectly matches your project needs. Get started by submitting your project details.
Get Started