Broadcast Advertising: Everything You Need to Know
For the last century, traditional broadcast advertising methods — such as television and radio — have been the best way for companies to reach a broad audience. By creating compelling ads, companies have been able to grow their brand and increase sales. Learn how to create a broadcast ad campaign for your company in the modern age. 
Need help selecting a company?
Based on your budget, timeline, and specifications we can help you build a shortlist of companies that perfectly matches your project needs. Get started by submitting your project details.
Get Started
What is Broadcast Advertising? 
Broadcast advertising is the use of transmission programs — such as radio or television — to distribute ad content. This can include video ads, audio ads, and even display ads. For example, the commercials you see on TV are a form of broadcast advertising. 
As a form of mass marketing, broadcast advertising is a great way for brands to reach broad audiences on a local, national, or even global scale. Because of its reach, companies use broadcast advertising campaigns to expand their brand awareness and persuade potential customers to make a purchase. 
Connect with a highly-rated advertising agency on Top Design Firms. Search based on location, services offered, and client rating to find the perfect partner for your broadcast advertising campaign. 
Benefits of Broadcast Advertising 
Broadcast advertising reaches a broad audience 
Broadcast advertising is memorable and compelling
Broadcast advertising is effective 
A Brief History of Broadcast Advertising 
Broadcast advertising became popular in the 1920s when radio shows were extremely popular. People tuned into their favorite stations every night, so advertisers would create radio ads that would air during prime-time shows. 
However, as televisions became more popular in the 1950s, many brands shifted their advertising strategy to target customers through TV ads. 
While both radio and TV advertising are still very popular advertising media, once again, advertisers are switching their strategies to accommodate new technologies and how people consume media. 
Over the last 20 years, digital streaming services, podcasts, social media, and other new platforms have changed how people consume media. People are spending more time than ever online. As such, many broadcast advertisers are looking to create ads that can be viewed online. 
Additional resource: Are your ads compelling? Improve your ad content by checking out '6 Concepts in Advertising to Propel Your Business.' 
How Does Broadcast Advertising Work? 
Whether companies want to create a radio ad or tv ad, how they create a campaign is more or less the same.
First, they must develop the ad content. If it's an audio ad (aka radio ad), they will have to develop a radio script, record the voiceover, and layer in music. If it's a TV ad, they may need to create a concept, develop a script, hire actors or animators, and produce the ad. 
Then, when the ad has been developed, advertisers work with broadcasters and pay for a spot. A spot is a time slot in which the ad will be aired. That usually lasts 15–30 seconds, but can sometimes reach 1 minute long.    
At this point, they agree on when the ad will be run, how often it will be aired, and how much it will cost. 
Once the ads air, companies must track sales and use customer questionnaires to determine if their broadcast advertising campaign is effective. 
Types of Broadcast Advertising 
Radio Advertising 
Despite popular belief that radio is on the decline, recent research shows that it is in fact growing. Consequently, marketing experts predict that the market value of radio advertising will be $23.3 billion by 2026. 
This is because nearly 200 million Americans still listen to the radio on a daily basis. Therefore, radio is still a great way for brands to reach millions of potential customers. 
Radio advertising is also particularly appealing to smaller, local businesses because they can easily target potential customers in their area. It's also more affordable than other broadcast advertising strategies, such as television. 
The cost to run a radio ad is usually between $200–$5,000 per week depending on: 
The market the radio ad runs in
The number of listeners 
The station the radio ad airs on 
The length of the ad 
When the radio ad airs
If you're looking to develop a radio ad, be sure to contact the stations you want to advertise on to get an accurate quote. 
While radio advertising is very effective at improving brand awareness, strengthening name recognition, and directing traffic to a company's website, consumers must hear a radio ad several times before the message truly sinks in.  Thus, repetition is key for radio ad campaigns to be effective. 
Additional reading, 'How to Write a Radio Ad Script'
Television Advertising 
When you think of advertising, you probably think of TV commercials. Whether it's a famous Super Bowl ad or a local ad that has used the same jingle since your childhood, TV commercials are one of the most effective broadcast advertising strategies. 
In fact, consumers are 11x more likely to search for a product they've seen on a TV ad. Additionally, some estimate that television advertising is responsible for 72% of all brand awareness. 
TV advertising is so effective because it captures an audience's attention, making it more memorable. More importantly, though, TV ads are considered more trustworthy than any other medium. 
However, TV advertising can be expensive. It costs an average of $115,000 to purchase a single 30-second ad placement on a national network. Additionally, it can cost between $1,500–$2,000 to develop video ad content for television. 
Similar to radio advertising, the cost of ad placement can vary depending on the viewership of the platform, which means the cost of a TV ad campaign can jump significantly depending on when it airs. 
For instance, NBC charged companies $6.5 million for a 30-second TV ad during the Superbowl in 2022. Of course, it is estimated that 208 million people watched Superbowl LVI, making the reach of the campaign well-worth the investment for the companies that developed the ad.  
Despite the price tag, many companies still believe that TV advertising is still worth the cost. Still, companies must think about their audience and their products to determine if they will earn a positive ROI on a television ad. 
OTT Advertising
How people consume media is changing. Rather than watching TV or listening to the radio, people are streaming content through platforms such as Netflix, Disney+, Paramount+, or Peacock. To reach these potential customers, companies must be prepared to invest in over the top (OTT) advertising.  
In addition to traditional TV and radio ads, many advertisers are shifting their strategies to focus on OTT advertising. It is estimated that by 2030, most (60%) of broadcast advertising revenue will come from streaming or video on demand (VOD) platforms. 
However, this type of broadcast advertising is likely to look a little different than TV or radio advertising. Rather than paying for an advertising spot, advertisers are able to automate how they serve their ads. 
This type of automation allows them to target customers more effectively. Similar to how digital marketing advertisers are able to target specific audiences through PPC ads, companies are able to serve their broadcast ads based on what a user is watching/listening to, what their interests are, and based on demographic information. 
For example, Spotify offers an automated advertising platform that allows companies to launch their own ad campaign and target users based on their: 
Demographics 
Age
Gender
Location
Language 
Behaviors
Environment
Platforms & Devices
Genres
Podcasts 
Music
Podcast topics 
Through Spotify Ad Studio, advertisers are able to select descriptors of their target audience so their ads are only served to those who are most likely to buy their products.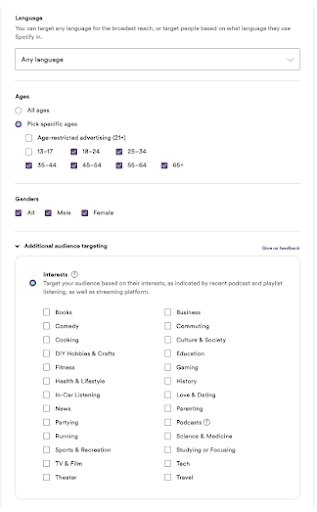 Source: Spotify Ad Studio
They're also able to create a budget and set up the length of the campaign to control costs. 
Self-serve advertising platforms like this are more likely to become the norm as other platforms adopt broadcast advertising strategies. Hulu, for instance, is already testing an Ad Manager platform that provides a self-service option for advertisers. For as little as $500 per ad, nearly any small business will be able to advertise on the platform. 
As other streaming platforms like Disney+ and Netflix launch new ad-supported subscription plans, it's possible that these platforms will roll out their own self-service ad platforms as well. 
At the moment, however, each platform handles advertising differently. Those looking to advertise on streaming platforms must contact the platform directly or consult with a media buying professional to place their ads on streaming services. 
Need help placing an ad? Contact a media planning and buying agency. 
Broadcast Advertising Will Help Grow Your Business 
For the last century, broadcast advertising has been one of the most effective ways for companies to reach a large audience with their ad campaigns — and it still is today. 
By creating compelling content that grabs their audience's attention, advertisers are able to grow their brand awareness and increase sales with TV and radio ads. 
However, the broadcast advertising industry is shifting in response to new technology and new types of media. Over the top (OTT) advertising and self-serve ad platforms are providing a new way for companies to reach their audience through streaming services. 
Nevertheless, the key to a great broadcast advertising campaign is to create high-quality content that consumers can relate to. 
Need help developing a broadcast ad campaign? Connect with a highly-rated advertising agency or media planning and buying agency on Top Design Firms. 
Additional Reading
Need help selecting a company?
Based on your budget, timeline, and specifications we can help you build a shortlist of companies that perfectly matches your project needs. Get started by submitting your project details.
Get Started