6 Concepts in Advertising to Propel Your Business
Advertising is key to growing your business. Follow these concepts in advertising to create a memorable campaign that appeals to your target audience. 
Whether you realize it or not, advertisements surround you almost constantly. Walking to work, you may see an ad at a bus stop. 
Online, you may see an ad on your favorite social media platform. 
You probably see them on TV and in magazines, but also hear them on the radio or a  streaming service. 
Needless to say, they're unavoidable. But to be effective, companies have to develop creative concepts that stand out. 
Creative concepts are the big ideas that capture an audience's attention and persuade them to take action. 
By producing engaging ads, companies are able to build connections with their target audience, introduce new products, and increase brand awareness, ultimately in the hopes of growing revenue.
Here are a few creative concepts that are commonly used in advertising. By incorporating these advertising concepts into your campaign, you can appeal to potential buyers and build brand awareness.
Looking to create your own advertising campaign? Connect with a leading ad agency on Top Design Firms.
Need help selecting a company?
Based on your budget, timeline, and specifications we can help you build a shortlist of companies that perfectly matches your project needs. Get started by submitting your project details.
Get Started
6 Basic Concepts in Advertising
Use Repetition
Have you ever noticed that you see the same television ad nearly every commercial break?
Repetition is key in advertising because it keeps a brand's name or product at the front of a potential customer's mind.
This is because repetition helps people form long-term memories. So when people repeatedly hear about a brand or product, they are more likely to remember the name and buy the product in the future.
Companies can employ repetition by advertising on multiple platforms or repeating the same ad multiple times. 
For example, the athletic brand lululemon advertises on TV, social media, and on other digital platforms such as Buzzfeed. 
 
They use cookies, or tags to track users across their devices and build profiles based on their habits or interests. In doing so, they're able to get their brand name in front of  potential buyers more frequently. 
Known as retargeting, this is why if you visit a brand's website, you will be more likely to see an ad for their products or services on Facebook or Instagram.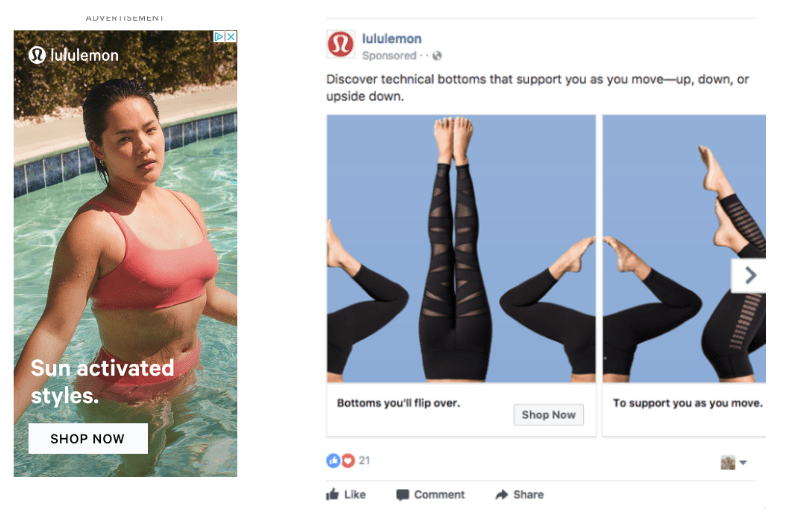 While some people worry about how cookies impact their privacy, many companies can use them responsibly to help customers find what they're interested in and serve ads across multiple platforms. 
As a result of their repetition, they leave a lasting impression that helps potential customers remember their brand and product offerings. 
Additional reading, '4 Social Media Retargeting Tactics for More Conversions.'
Advertising Mediums
To repeatedly get their brand name in front of customers, many advertisers utilize several different types of advertising. Consider which combination is the best to reach your target audience.  
Print Ads
Magazine Ads
Newspaper Ads
Broadcast Advertising
Digital Advertising
Paid search advertising
Social media Advertising
Display Advertising
Out-of-Home (OOH) Advertising
Billboards
Public transit
Event Advertising
Conferences
Pop-Up Shops
Networking events
Appeal to Emotions
While other persuasive strategies use reason and rationality to sway customers, an emotional appeal is when a brand stimulates their audience's emotions, whether it's with concern, excitement, happiness, sadness, or any other emotions. 
Other ad concepts may use reason by focusing on features or benefits that a product or service provides, while an emotional appeal seeks to tell a story or create engaging content that resonates with customers. 
Appealing to an audience's emotions  is particularly beneficial because it has been proven to increase online engagement and brand loyalty. 
For example, consider Toyota's 2021 Super Bowl ad featuring paralympic swimmer and 13x gold medalist, Jessica Long. 
The ad shows Long swimming past multiple big events in her life.
At the same time, viewers can hear her parents talking to the adoption agency about Long, her background, and her disability. In the end, her mother says, "[Her life] won't be easy, but it will be extraordinary," as Long smiles. 
The ad played on a surprising emotion for a car company — inspiration. While the ad didn't even feature a Toyota, it built their brand by focusing on their values. 
Rather than wanting customers to buy a Toyota because they have nice trucks, they appealed to customer's because of their brand values. As partners of the US Paralympic team, they wanted customers to know that Toyota values hope and strength.   
Other companies can create their own emotional ads by: 
Using visuals
Selecting the proper audio track 
Developing a story 
Use colors that reflect the emotion you want to portray
In doing so, they can portray emotions effectively and leave a lasting impression. 
Conceptual Advertising v. Factual Advertising
Factual ads highlight a product or the business by focusing on what the product does or how the business operates. For example, companies may discuss awards they've won or services they provide in an ad. 
In contract, conceptual ads focus on the benefits associated with the product or service. Often, they rely on an emotional appeal to grab the audience's attention. By making them smile, laugh, or think more critically about how the product could help them, they are more memorable. 
Establish a Bandwagon Effect
Have you ever had FOMO — the fear of missing out? A bandwagon effect plays on the desire people have to be a part of a group. By showing that "everybody" has something or wants something, brands can appeal to customers trying to fit in. 
They want to jump on board the bandwagon. 
For example, people are more likely to buy the last book on the shelf because it appears to be the most popular and they're likely to adopt certain fashion trends if they see celebrities wearing it on their own. 
Advertisers can utilize the bandwagon effect by: 
Using scarcity tactics to appear desirable
Starting hashtag campaigns to be more noticeable on social media 
Building credibility for their brand by investing in public relations
Hiring a celebrity to promote the product or appear in ad campaigns. 
As a result, potential customers will be more likely to notice new trends and buy the product or service. 
Focus on Benefits
Many companies mistakenly focus on features of their products or what's included in their service when advertising. While this is great information, it isn't very persuasive. In order for an ad to be effective, advertisers must explain why they should want to buy it. 
For example, consider the travel booking agency, Expedia's 2022 Superbowl ad with Ewan McGregor. 
The ad doesn't touch on how Expedia allows users to search for hotels, flights, rental cars, and excursions all on one site. The ad doesn't mention that they scan the internet for cheaper prices, or that users can save money by booking through their site. 
No. Instead, the ad focuses on the primary benefit that Expedia provides — the ability to travel. 
They do this by showing McGregor walking by the sets of other Superbowl ads, asking the audience if they are more likely to regret not buying more stuff or not seeing more places. 
Highlight Stories
Stories are compelling because they resonate with many people. By including stories in advertisements, companies are able to deliver their message effectively, portray their brand image and values, as well as build relationships with their customers. 
Additionally, stories are easy to remember and can evoke emotions that can persuade potential customers to make a purchase. 
To include storytelling in advertisements, companies need to develop a narrative that communicates their message. 
While it's easier to develop a storyline in TV advertisements, other types of ads, such as print ads, make it more difficult to tell an entire story. In just one image and a few short words, advertisers have to build a narrative that people can understand right away. 
Here, the hand sanitizer company, Dettol, was able to portray how many germs could be sitting on one person's hand by using all the things the person touched to create a hand.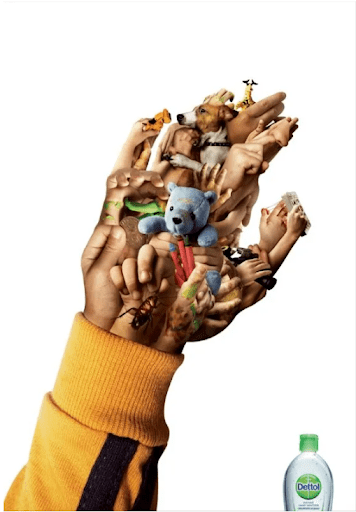 Source: Bhatnaturally
The design helped develop a story about a kid that touches everything. To get rid of the germs that could be sitting on their hand, they need an effective sanitizer. 
Be Honest
Honesty and authenticity are probably the most important concepts in advertising, especially as Generation Z comes of age.
By being truthful, companies ensure that they deliver exactly what their customers are looking for — a key concept for building brand trust and customer loyalty. 
A great creative ad may be interesting and even sway some customers to make a purchase, but if it's not based in fact, companies are sure to experience a decrease in credibility. As a result, they'll see few repeat buyers and experience a significant drop in sales over time. 
Even worse than that, they might be sued for false advertising, a type of fraud. 
To keep ads honest, companies need to avoid exaggerating the benefits of their products or services and avoid minimizing any downfalls. 
For example, an apartment building may want to advertise that they offer the best prices in the city or the most spacious, but it may not be accurate. Instead, they should advertise the cost per square foot and say it's a great deal. 
This helps portray the same message without stretching the truth.
Develop Engaging Ads with Creative Concepts in Advertising
Nearly every business needs to advertise to attract new customers and grow. However, in order to be effective, they need to create interesting and engaging ads that persuade their customers to take action. 
By using repetition to engrain their brand on their customers' minds and using persuasive strategies such as the bandwagon effect and appealing to their emotions, they are more likely to see an impact from their advertising efforts. 
These creative concepts are used by advertising agencies around the globe to appeal to their client's customers, increase brand awareness, and grow sales.
Looking to create your own advertising campaign? Connect with a leading ad agency on Top Design Firms.
Additional Reading
Need help selecting a company?
Based on your budget, timeline, and specifications we can help you build a shortlist of companies that perfectly matches your project needs. Get started by submitting your project details.
Get Started