How to Create an SEO Roadmap Strategy
Achieving high search page rankings can be difficult. While creating content that is focused on high-traffic keywords is appealing, it may not be enough to meet business goals. Outlining their SEO roadmap strategy allows companies to address individual business needs and keeps teams on course.
As with any strategy, SEO roadmaps provide guidance and a reference point for the teams and stakeholders. Developing an SEO roadmap has many benefits that go along with its creation.  The key to its success is the built-in steps that help identify and plot your actions, including staff engagement and results monitoring.
Need help selecting a company?
Based on your budget, timeline, and specifications we can help you build a shortlist of companies that perfectly matches your project needs. Get started by submitting your project details.
Get Started
What Is an SEO Roadmap?
An SEO roadmap is an essential strategic document. It ensures that all SEO-related activities are on track, which streamlines decision-making and eliminates errors. It outlines the details of every SEO tactic the company uses or intends to introduce in the future. 
Your SEO roadmap should include: 
a task prioritization hierarchy 
a breakdown of workflows and standard operating procedures
a list of deliverables and how they fit into the overall strategy
clearly defined key responsibilities 
An SEO roadmap may also include the number of (estimated or actual) hours a particular task will take in order to ensure efficient client service.
For example, this SEO roadmap outlines each step that has to be completed in order to launch a new campaign.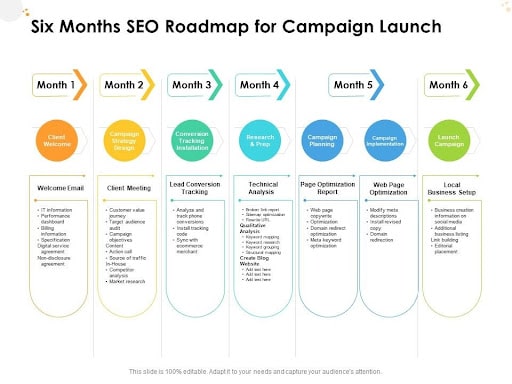 Source: Slide Team
Each month identifies what the team's priority is and what they need to accomplish. 
What Are the Benefits of an SEO Roadmap?
SEO roadmaps answer questions stakeholders may have regarding strategy and allow the management of any major changes that may occur within the organization. By providing guidance and points of reference, a roadmap clarifies the reasoning behind the decisions as well as helps ease understanding and familiarization of the delivery of the strategy for new hires.
An SEO roadmap has the following benefits:
Increases Flexibility
SEO roadmaps make tasks, deliverables, and even methodologies more flexible. It allows the SEO and marketing teams some room to maneuver initiatives and to continue forward despite fluctuating goals. It maintains the levels of productivity while giving enough freedom to adjust plans.
Provides Opportunities for Quick Wins
The idea of a quick win is to determine places where a few minor changes can gain some immediate traction. Capitalizing on quick wins gives a clearer picture of current standing and allows for the adjustment of bigger projects to augment strengths and transform or cover any weaknesses.
Improves Project Scheduling
Once a list of quick wins has been determined, the focus can be moved to larger issues like clean-up projects, long-term goals, and big wins that are to be tackled throughout the year. The roadmap allows you to schedule projects ensuring that nothing is forgotten while larger and high-priority items are highlighted.
Establishes SEO Project Hierarchy
Applying a priority system makes it easier to see which items need to be addressed promptly.  A good SEO roadmap has an established project hierarchy that not only shows which projects and items are the most essential but also adds another dimension to the plan should change be needed.
Aligns Content With Goals 
Because the roadmap contains project timelines that include content and product launch dates, aligning goals and content across platforms becomes easier. A well-built SEO roadmap helps in the creation of parallel projects and allows the tracking of tasks and items tied to those projects.
 
How to Build an SEO Roadmap
1. Assess Current SEO Standing 
Understanding your SEO landscape can help businesses understand where they stand against the competition. This is about looking at how good your content is relative to a specific tactic and comparing it with those of competitors with that same tactic. 
Here are some key items worth remembering:
backlink profile comparison (how many links, from where, at what quality, etc.)
keyword gap comparison
pricing and promotion comparison
site performance comparison 
UX comparison 
E-A-T comparison (Expertise, Authority, and Trust)
By assessing your current SEO standing, you can adjust your strategy and become more competitive. 
2. Explore Options
In addition to the technical SEO requirements and features, you  must take into account the other aspects of SEO that align with your business strategies, such as technical SEO needs.  This includes:
usability and site performance SEO needs 
backlink development and off-page optimization 
SEO content marketing needs
Technical SEO is just as, if not more important than other SEO factors. 
3. Determine Effort Levels  
Break projects down into tasks and organize them into a chart. Identify levels of effort required for each task and rank them by order of priority (urgency and potential impact). Also, remember that finding quick wins is crucial as these minor changes can yield great rewards.
4. Create a Timeline
Timelines help keep track of things and determine the progress of each task. Break large tasks into phases if necessary.
5. Assign Responsibilities
Identify which teams are better suited for each task. A clear delineation of tasks helps avoid confusion, errors, and delays. Workflows, communication, and file-sharing plans help things get done more efficiently.
6. Align Tactics with Goals and Strategies
Tactics should align with SEO goals and strategies. Setting mini-deadlines and benchmarks allow for better progress tracking.
7. Identify Channel Overlaps
Channel overlaps are places where workloads across teams can be streamlined or reduced to maximize impact. 
8. Identify Website Essentials
Do a website audit to identify website essentials such as tools or software that can be used to measure progress, carry out tasks, etc. Determine whether such things would be needed and if they are accessible.  
9. Leap into Technical SEO
Conduct technical audits to determine areas that need monitoring. Recurring audits should be done for site architecture, error codes, schema markups, XML sitemaps, and crawl issues and errors.
10. Design Strategic SEO Content
Evaluation of current content is integral to designing strategic content. The status of your current content can help determine whether new strategies are needed.
11. Produce an SEO Roadmap Template
Creating a reusable SEO roadmap template would be beneficial for future use. In creating your SEO roadmap consider its reusability and flexibility.
12. Do Site Maintenance
Maintenance and follow-ups not only show project progress but ensure the flexibility and maneuverability of tasks. These tasks help prevent errors and allow you to fix any issues fast.
SEO Roadmap: Winning Formula
Identifying workflow and standard operating procedures (SOPs) are the foundation of building an effective SEO roadmap. Workflows and SOPs have to be constantly monitored to gauge output quality. 
Tasks that don't deliver desired results are but distractions and must therefore be removed to ensure efficiency and better productivity. 
Evaluation of tasks can be done by looking at their impact on the work and the timing of delivery. By determining the work impact and delivery timing, you can improve your workflows and SOPs.
Connect with an SEO company to create an effective SEO strategy for your business. 
 
Need help selecting a company?
Based on your budget, timeline, and specifications we can help you build a shortlist of companies that perfectly matches your project needs. Get started by submitting your project details.
Get Started