Benefits of HubSpot for Digital Marketing
With a wide variety of digital marketing, sales, and customer service tools, there are many benefits of HubSpot. Here's how you can use the platform's tools to improve your digital marketing strategy.
For many companies, the internet is their primary connection to new and existing customers. 
In 2020, it was estimated that people spent an average of two hours online every day, scrolling through social media, streaming content, checking email, or even shopping. Consequently, developing an online presence is key to building up their business. 
Many digital marketing firms use HubSpot, a CRM platform that provides digital marketing, sales, and customer service tools, to organize and execute their efforts. 
Need help selecting a company?
Based on your budget, timeline, and specifications we can help you build a shortlist of companies that perfectly matches your project needs. Get started by submitting your project details.
Get Started
How Organizations Can Use HubSpot to Improve Their Digital Marketing Efforts
Target specific audiences by creating buyer personas
Improve SEO practices
Optimize campaigns by analyzing various metrics across functions
Automate email marketing 
Automate social media posting
1. Target Your Audience by Creating Buyer Personas
Buyer personas are fictional representations of a company's customers. This tool helps businesses get a better understanding of their customers. 
By conducting market research and collecting data from existing customers, businesses are able to identify demographics, behavior patterns, and motivational factors that can help them convert users. 
Businesses can segment their audiences and tailor their marketing efforts to increase conversion rates throughout the buyer journey. 
HubSpot has several features that allow companies to build buyer personas, store them, and reference them in the future. 
Then, they can collect user data that can help them identify which buyer personas the potential customer fits best. For each persona, businesses can create unique marketing funnels that make their lead nurturing process more effective. 
For example, this persona outlines a potential customer's job responsibilities, goals, and most significant challenges.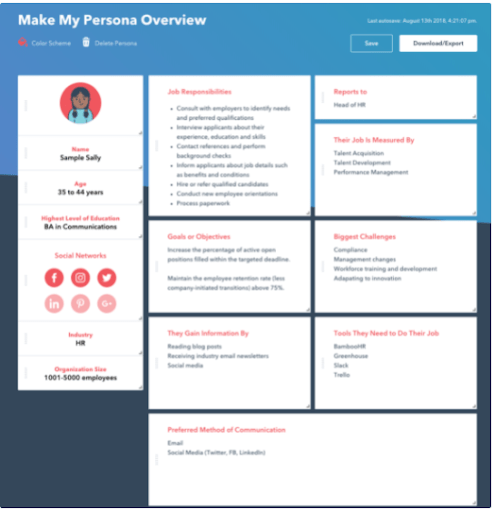 Source: HubSpot
This helps companies identify how they can appeal to their customer base and on which channels they can be reached. 
2. Improve SEO 
Regardless of what industry you're in, search engine optimization (SEO) is key for growing your brand awareness, attracting traffic to your site, and increasing sales. However, getting your site to rank on the top page of Google is extremely difficult. 
To improve your rankings, you must identify and target specific keywords that can boost your site's visibility. 
HubSpot's content strategy tool helps businesses identify research topics, subtopics, and keywords that can help them generate organic traffic. 
Additionally, HubSpot can help businesses curate and post regular content. Content, such as blog posts, is valuable for readers and  is likely to rank highly on search engines such as Google. 
By automating your posts, you can create an editorial calendar that consistently posts new content and keeps your site at the top of search engine results pages (SERPs). 
3. Optimize Campaigns by Analyzing Metrics 
HubSpot automatically collects data on several marketing campaigns, which can help businesses create more effective campaigns overall. 
Using HubSpot, you can track anything from email open rates to click-through rates on landing pages. As a result, it's easy to run A/B tests and determine the most effective way to target your audiences online. 
By optimizing your campaigns, you can increase your conversion rate and improve the return on investment (ROI). 
4. Automate Email Marketing
Earning, on average, $36 for every $1 spent, email marketing is one of the most effective digital marketing strategies. 
However, it can be a time-consuming endeavor without the help of an email automation tool. HubSpot, on the other hand, allows users to: 
Craft responsive email designs that can be opened on any device 
Build templates and sequences that can be used over and over again
Personalize emails to increase click-through rates
Create contact lists so you can target audience segments
Add call-to-actions (CTAs) 
This ensures that potential and existing customers have the best experience when engaging with your company. 
The image below shows how users can use a custom email template.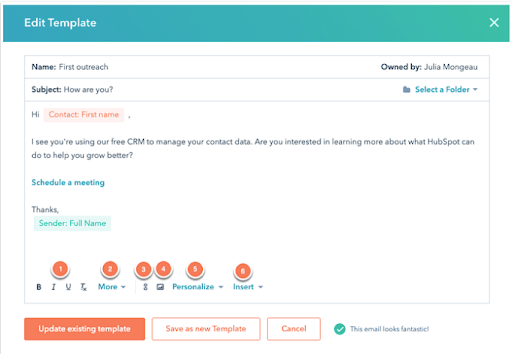 Source: HubSpot 
The sender can personalize it using the recipient's first name and their own in the email signature. It also allows users to add a call-to-action, images, links, and other unique email features to make their emails more effective. 
Once you begin an email campaign, you can use HubSpot's analytics tools to determine the most effective way to drive engagement and sales. 
5. Plan Social Media Campaigns 
HubSpot can be linked to Twitter, Facebook, Instagram, and LinkedIn. By integrating your social media accounts, you can schedule posts from your CRM. 
This is particularly helpful when you post new blog content or landing pages. This feature helps businesses share their newest content on their social media platforms and promote their business. 
With HubSpot, you can: 
Use Emojis
Add Hashtags
Include Images and videos
Target countries or languages
Mention other social media accounts 
Attach links
Schedule posts
This will improve your social media campaigns by increasing traffic, which will increase sales and positively affect your SEO. 
HubSpot can also extract customer data through these platforms and help you keep track of all of your customer interactions. 
HubSpot Streamlines Digital Marketing Efforts
HubSpot can help your business improve its digital marketing campaigns. Features such as email and social media automation can simplify your daily workflow. At the same time, tools for keyword research and metrics tracking provide businesses with information that can improve their campaigns overall. 
To learn more about how you can use HubSpot or another CRM to grow your business, check their website and contact a representative. 
 
Need help selecting a company?
Based on your budget, timeline, and specifications we can help you build a shortlist of companies that perfectly matches your project needs. Get started by submitting your project details.
Get Started