Email Acquisition & How to Convert Leads
As one of the most successful digital marketing strategies, email marketing can help businesses nurture leads and increase sales. Improve your email list and your content strategy by following these email acquisition tips.
On average, businesses earn $36 for every $1 they spend on email marketing, making it one of the most effective digital marketing strategies for growing a business. 
In response, companies looking to build customer relationships and increase sales should invest in developing a robust email marketing campaign. 
Email acquisition is all about building an email list full of qualified leads and nurturing those leads to convert. 
Need help selecting a company?
Based on your budget, timeline, and specifications we can help you build a shortlist of companies that perfectly matches your project needs. Get started by submitting your project details.
Get Started
5 Tips to Improve Your Email Acquisition Strategy
Promote your email list
Target existing customers
Segment your audience
Offer valuable information 
Stay customer-focused
1. Promote Your Email List 
The first step of this process is email acquisition. Before you begin your email campaign, you must first collect a list of email addresses. 
In order to acquire new email leads, businesses must promote their email content. Highlighting this offering on social media and your website is a great way to gain visibility, especially since the people who visit those platforms are either looking into your industry or are already familiar with your brand. 
Others may stumble across your business's information if your content becomes popular or goes viral. 
To encourage potential leads to subscribe to an email list, you should: 
Add email subscription buttons to your website and social media channels
Post about your newsletter across social media channels that your target audience is on
Consider adding unique gated content on your website and cross-promoting on social or paid channels to garner new subscribers
Offer discounts or exclusive access to certain features or services when a new subscriber joins the email list
Equally as important, create original and valuable blog content to retain and engage existing subscribers.
In doing so, you'll create a robust email list full of potential buyers. 
2. Target Existing Customers 
When first launching an email campaign, it's best to engage existing customers. Since you already have their email and purchase history, they're more likely to convert compared to new customers who will need multiple touchpoints. 
In fact, the average conversion rate for new customers lies between 5% - 20%, while the probability of selling to an existing customer is 60% - 70%.
At the same time, email marketing is an effective way to increase those conversion rates among existing customers. 
By nurturing those relationships and keeping your brand top-of-mind, you can increase sales and grow brand loyalty.  
3. Segment Your Audience 
By breaking your audience up into different segments, you can target them with offers that best suit their needs and messaging that is more likely to resonate with them. 
As a result, your email conversion rate should increase. 
To properly segment your audience, examine the demographics of your current buyers, determine what motivates them, and identify what products or services they're most interested in. 
For example, you could segment your audience based on: 
Gender
Age 
Location 
Job position 
Company size 
Household income
Average number of purchases in a given time frame
Once you conduct audience research, you can compile a list of buyer personas that embody the characteristics you've outlined. 
Depending on your business and who your ideal customers are, use this information to create criteria that determine which campaign or email sequence is best suited for each segment. 
For example, an outdoor recreation retailer may want to advertise paddleboards to people who only live in Florida and repelling gear to people who live in Colorado. 
By segmenting your email list, you can increase engagement and conversion rates. 
4. Offer Valuable Information 
Often people unsubscribe from an email list because the email newsletter doesn't add value. Email content needs to be engaging, informative, or financially beneficial to keep subscribers interested. 
What potential customers are looking for when they subscribe to emails can vary, but there are several ways to create value. 
How to create value for email subscribers:
Provide incentives and deals 
Offer educational content that addresses a pain point in their life (i.e. blog content and case studies)
Heighten urgency (i.e. this deal expires in 24 hours)
Target users with products and services they have purchased previously are have indicated they are interested in 
For this final point, ask your new email subscribers to select what items, categories or services they are most interested in hearing from you about. This can be accomplished by creating a welcome series for new adds that follows up with a brief preference questionnaire. 
In doing so, you'll find that users look forward to your emails and are more likely to open them, click through them and make a purchase. 
Qudratec, a Jeep parts and accessories brand, for example, sends emails with exclusive deals to their existing customers.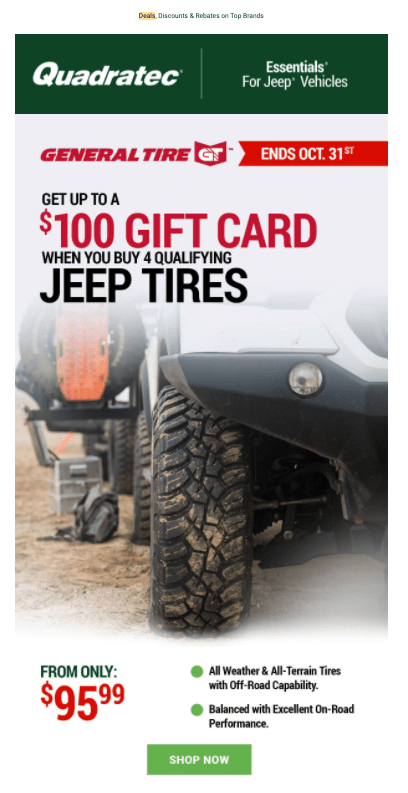 In advertising these deals, they encourage buyers to revisit their site when they want to repair or upgrade their vehicle. In doing so, they've become a trusted go-to platform for Jeep enthusiasts everywhere. 
5. Stay Customer-Focused 
When promoting your business, it's easy to focus on your products or services and how great they are. Yes, you need to inform customers about what your business offers, but that's not the most motivating factor for customers. 
What actually persuades customers is how your products or services can benefit them.
Does your product or service make their life easier?
Does it bring joy?
Is it practical?
Does it make them feel like they belong? 
Instead of highlighting what your business offers, highlight how your business can help your customers in your emails. 
For example, a company that makes weighted blankets should advertise how their products could improve sleep and reduce anxiety rather than just the material and weight of the blanket. 
This shows how the product benefits customers and could persuade people to purchase it. 
Acquire More Leads with These Tips
Email marketing is an effective way to connect with customers, nurture leads, and increase sales. 
But to truly get the best return on investment, segment email communication and invest in building relationships with existing customers. 
For more insight on how to run an effective email marketing campaign, contact a digital marketing company to consult on your project. 
 
Need help selecting a company?
Based on your budget, timeline, and specifications we can help you build a shortlist of companies that perfectly matches your project needs. Get started by submitting your project details.
Get Started