9 Tips to Optimize Lead Generation Landing Pages
From conversational messaging and contact forms and "message-matched" ads and landing pages to a frictionless design experience, learn the fundamentals of crafting a high-converting lead generation landing page.
If you're running lead generation ad campaigns for your business, you should be sending users to dedicated landing pages, and not your website. In doing so, you will be able to improve your conversion rates and maximize the return on investment of your ad campaigns.
Need help designing a lead generation landing page? Connect with top web design companies on Top Design Firms. 
Need help selecting a company?
Based on your budget, timeline, and specifications we can help you build a shortlist of companies that perfectly matches your project needs. Get started by submitting your project details.
Get Started
What is a Lead Generation Landing Page?
Sometimes referred to as a lead capture page, a lead generation landing page is created specifically to capture lead data from a specific ad campaign. Fueled by traffic from a third-party channel (like Google, Facebook, LinkedIn, Instagram, etc.) users are directed to a page designed to convert a user into a lead. 
What's the difference between a landing page and a website home page?
Unlike a traditional website home page that may have multiple goals, a custom lead generation landing page has one single point of conversion with no navigation menu so that the user stays focused on the goal.
Usually, the page features a call to action (CTA) and includes a value-rich offer in exchange for client information i.e. name, email address, company name, telephone number, etc. 
Lead generation landing pages rely on a concept developed by American psychologist Barry Schwartz in his book The Paradox of Choice. Schwartz argues that too many choices create anxiety while eliminating consumer choices reduces friction and increases the likelihood that a user will convert into a lead.  
By creating a landing page that provides the specific information that the user is seeking, companies can divert the Paradox of Choice and improve their conversion rate. 
9 Tips to Optimize Your Lead Generation Landing Page
As simple and singularly focused as a lead generation landing page necessitates, there are "absolute" elements that need to be integrated into a successful landing page optimization. 
Use Strong, Conversational Messaging
The best way to create messaging for your landing page is to forget about Google, search engines, or the internet, and just for a moment, pretend that you are talking to a real-life human being about why they should be interested in your service, in the simplest way possible. 
The page below shows a great example. It succinctly describes two of this law firm's benefits (being friendly and approachable and finding a solution for your family) in an organic, conversational tone.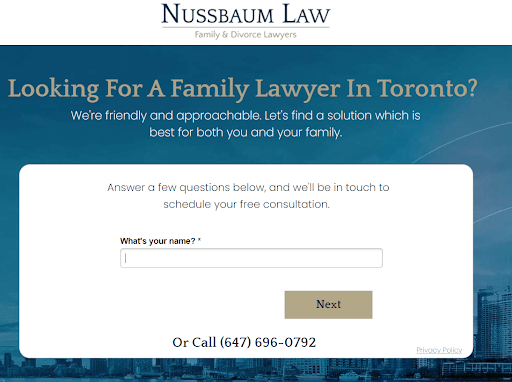 Here's another excellent example. In a few sentences, this page expresses the importance of choosing the right plastic surgeon, and the expertise of the doctor.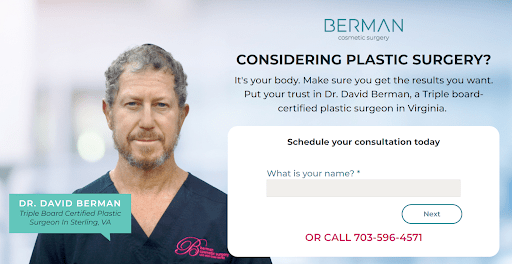 Be direct with your messaging on landing pages. 
Use Simple, Conversational Contact Forms
You may have noticed that the pages above both follow a similar design theme. They make a simple statement, followed immediately by a contact form that asks one question at a time in a conversational, almost chatbot-esque manner. 
The reason why is simple. When you combine the human element of the content with the question/answer structure of the form, the landing page takes on the feel of a conversation. Users get the feeling that you are engaging with them, rather than talking at them. 
Additional reading, '7 Tips for Designing Web Forms.'
Use Language That Match Your Ads
A landing page doesn't exist in a vacuum. Its' conversion rate depends on the quality of the traffic sent to it, as well as the context of the ad that the user saw.
To this end, it is imperative to ensure that your landing page copy and ad copy match, so that users see exactly what they are expecting when they arrive on your page. 
Here's an example of a message-matched ad and landing page.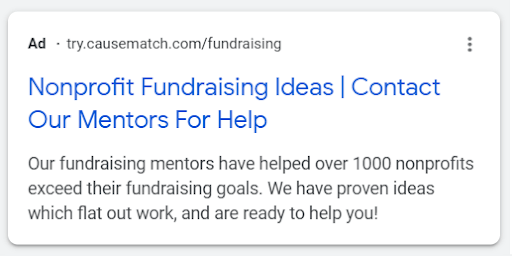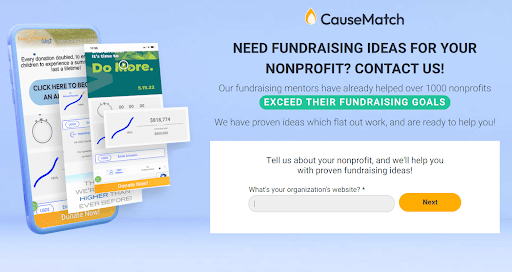 Both the ad and the landing page highlight that they help nonprofits come up with fundraising ideas.
By creating consistency in the language on each page, users are more likely to continue on the platform. This is an established technique that is proven to increase conversion rates.
Include Contextual features and benefits statement 
This is where you get more granular by describing your features and their benefits in an easy-to-consume,  "at a glance" format. 
By highlighting the features of your products or service and explaining the benefits clearly, you'll be more likely to convert visitors to your site. 
 
However, marketers sometimes confuse or interchange features and benefits but they are two distinct elements.  While features are existing characteristics of your product or service, benefits are how those features will add value to your prospective customer. 
As such, it's important that you include both on your lead generation landing page. Generally speaking, users will relate to benefits more positively than they will to features. 
Keep in mind that you want this section of your landing page to stand out. One way to do that is by including a bulleted list of the features and the benefits of your product or service. In addition to popping on the page, this will make it easy for readers to skim the list. 
Use Visual Content  
To support your features and benefits, a related video or image can help seal the deal, and both are worth testing to see what resonates best with your audience. According to Hubspot, embedded video content can increase landing page conversions by 86%. 
Yet images (and gifs) can help conversions too by providing a simple and quick way to illustrate your product or service, or to support your features and benefits, particularly if a professional video isn't in your current budget. 
Eliminate Top Navigation
As stated earlier, users require one option when they visit your landing page, to follow through on your CTA. 
In fact, landing page platform, Instapage, claims that navigation links "kill" your landing page conversions. 
Not only should navigation links and bars be avoided but superfluous elements should too. In fact, only one other element needs to be added to this list in order for a lead generation landing page to be fully optimized - social proof.
Use Social Proof
Social proof, a persuasion tool of sorts, is based on a fundamental psychological marketing principle that aims to influence human decision-making through third-party verification. 
This can include testimonials, reviews, media mentions, social media popularity, customer logos, certification badges - anything that provides third-party recommendations of your expertise or value.  
Check out these statistics about the importance of social proof:
Social proof can increase lead generation page conversion rates dramatically. 
Ensure Your Pages are Mobile Responsive
52.79% of total web visits are currently mobile, compared to 47.21% coming from desktops. 
Your landing pages need to be mobile responsive or more than half of your traffic is bouncing (think of all that traffic you're sending to your competitors).  
It's not enough to ensure that the page "looks good" on any device either.  Test your form and ensure your entire page is user-friendly and responsive.
Track Landing Page Conversions
Google Analytics allows you to set up goals by connecting a  goal (i.e. form fills) to the thank you page of your campaign. You will be able to monitor KPIs such as:
How many users visited your landing page
How many users converted on your landing page
Total conversions
Cost per conversion
By tracking these metrics, you will be able to be more dynamic and optimize your lead generation landing pages. In doing so, you'll be able to improve your campaigns overall. 
Develop Lead Generation Landing Pages to Increase Conversions 
If you're not yet using dedicated landing pages for your ad campaigns, you should start to do so immediately. If executed properly, you'll see a remarkable improvement in your ad campaigns' conversion rates and ROI. 
But not all landing pages are created equal - you need to get it right. Follow these tips, and you'll be well on your way to improving the effectiveness of your ad campaigns.
 
Additional Reading
Need help selecting a company?
Based on your budget, timeline, and specifications we can help you build a shortlist of companies that perfectly matches your project needs. Get started by submitting your project details.
Get Started