5 Elements of a Clickable Social Media Post
Social media helps businesses connect with customers and attract new audiences. However, creating content that stands out online can be challenging. Follow these 5 tips to generate clicks from your social media posts. 
Do you want to trigger more clicks on your social media posts? If so, you're not alone. Business owners and marketers around the globe use social media sites to connect with customers and secure more sales. 
It makes sense that brands would turn to this strategy. Over 4.62 billion people use social media websites like Instagram, TikTok, YouTube, and Facebook to catch up on the latest news, talk to friends, and engage with businesses. The ability to connect with such a broad group of people means you're bound to find your target audience. 
Because so many people use social media, it's hard to elevate your voice and stick out from the crowd. You must motivate users scrolling through their feeds to stop and read your posts if you want to grow. 
This article showcases the 5 elements that make a click-worthy social media post. Business owners across all industries can use these tips to amplify their social presence and grow their brands. 
Looking to improve your social media presence? Check out Top Design Firms' list of leading social media consultants. 
Need help selecting a company?
Based on your budget, timeline, and specifications we can help you build a shortlist of companies that perfectly matches your project needs. Get started by submitting your project details.
Get Started
Topic Relevance
It doesn't matter how much time and effort you put into creating your social media posts. If the topics do not match your intended audience's goals, pain points, and interests, you'll miss out on plenty of clicks. 
Think about it; why would someone bother reading your article, watching your video, or sharing your content if it doesn't directly impact their lives? 
The thing is, there is no reason for them to take further action if the topic isn't relevant to them. 
However, if you win them over with exceptional advice, interesting insights, or timely, relevant questions, many will become subscribers and even customers. 
The key to staying relevant is to base your content on your buyer personas. Buyer personas are fictional profiles that business owners and marketers use to better understand their ideal customers.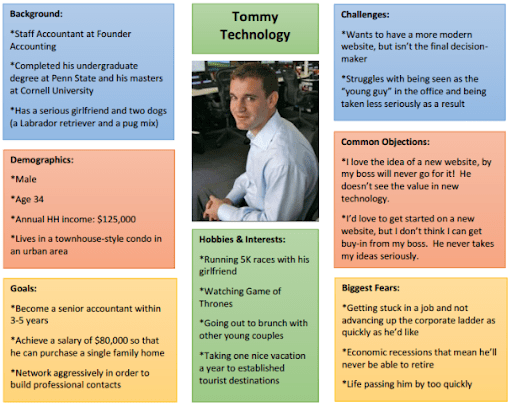 As you can see, user personas help you understand common objections, demographics, goals, and more. You can use this information to post hyper-relevant content on social media. 
Content repurposing is a common strategy to use in this situation. A whopping 82% of marketers say they repurpose content from their websites for social media. This statistic makes sense when you also consider that the average business owner repurposes their blog posts 2-5 times. 
In this instance, you should find popular blog posts on your website that match your customers' needs. Share these posts on social media with commentary and highlights that encourage scrollers to stop what they're doing and visit your website.
Audience Reach
Let's  talk about your audience reach. Much like posting irrelevant content, you will have difficulty growing your social channel if no one sees your work. The good news is that the average person spends over 3.5 hours on social media apps daily. If you can connect with your audience during these pivotal moments, channel growth will follow. 
There are a few ways you can enhance your organic reach. For starters, you should complete your social media profile and use relevant keywords when necessary. If someone decides to search for one or more of your keywords, they may discover your posts or profile.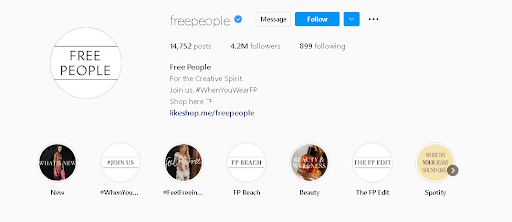 Source
Many social sites have a feature that allows you to choose the demographics of people who will naturally see your content while scrolling. Use your buyer personas to target users most likely to benefit from your product or service. Facebook calls this tool 'organic post targeting.' Other social platforms have free and paid versions of this feature.  
You'll have a better chance of organically reaching your audience if you post consistently every day, or at the very least, on the same days each week. Social algorithms see consistency as a trust signal and are more likely to show these posts to users over someone who posts randomly twice a month.
Interactive Copy
You may be shocked to learn that 91% of internet users say they want to see more interactive content from companies they love. It's safe to say that an extension of these interactions carries over to social media. 
If your content is self-serving and doesn't offer anything of value to the readers, most people will keep scrolling. On the other hand, if you can convince subscribers and casual visitors to interact with your social media posts, you can bet that they will continue to do so in the future. 
Asking your audience for feedback is the key to creating a truly interactive post. For example, you could share a list of statistics from your website with a few bullet points.     Here's where you have a chance to encourage interactions. 
Ask users if they've noticed similar results in their day-to-day lives. It doesn't matter whether they answer yes or no; all that matters is they are interacting with your business. Your team can stick around and engage with these users, so they have a reason to keep coming back to your site. 
I've also found that short posts perform better than long ones. In fact, research shows that posts with 80 characters or less get up to 66% more engagement when compared to longer social posts. 
The possibilities for interactive content are virtually endless. Think about questions, information, and statistics that matter to your readers. Use these data points to invite readers to engage with you on social media, and you'll trigger more clicks.
Visual Content
Speaking of interactive content, let's talk about the power of visuals. Did you know that 88% of marketers say they've seen a positive return on investment from video content? It's safe to say that images are equally compelling and will result in more people clicking your posts. 
You can share visual content on most social media sites, but they perform exceptionally well on Instagram, TikTok, and YouTube. Below, you'll find an Instagram video with plenty of visual cues that encourage users to click through.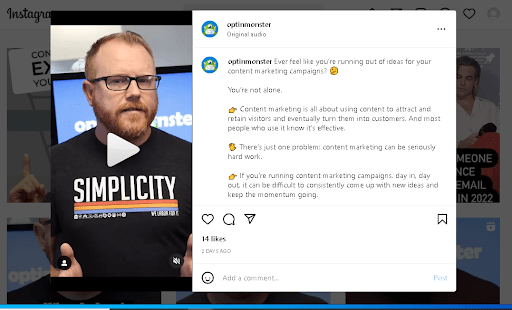 Source
Let's do a quick breakdown of visual highlights in this still image: 
A clear branded profile picture shows users exactly who authored this post. 
Emojis stir curiosity and make the copy visually engaging. 
Crisp, clean video quality
Even the speaker wearing a shirt that says "simplicity" is a visual trigger. It tells visitors, "hey, you should watch this video; I want to show you something super simple." 
Now, it's not hard to see how these visual cues act as a trigger and encourage visitors. You'll want to create videos and images that attract your audience and give them a reason to spend time on your profile. Examples of visual content that works across all industries include: 
Infographics
Online courses
Live streams (Ask me anything events, webinars)
Behind-the-scenes footage
Quick tips/ guide videos
Customer interviews (visual case studies) 
I suggest experimenting with different types of visual content in your social media posts. You'll find that videos and images typically result in more engagement and conversions. 
A Laser-Focused Call-to-Action
The last element I want to discuss today is your call to action (CTA). Simply put, your CTA is what you want each person to do after they read your post. If your goal is to trigger clicks, you must give users a good reason to take action.
Several elements make up a good CTA. Below is a fantastic example featured on a website, but you can use a similar style button on your social media posts.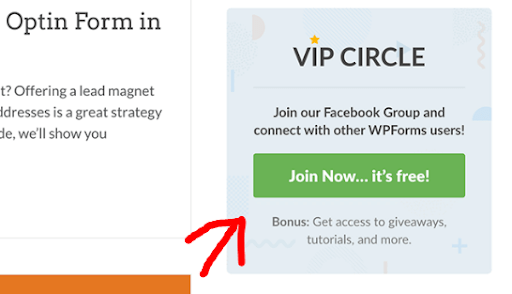 A good call-to-action is effortless, offers an immediate benefit, and gives the user a reason to continue engaging with your brand. 
For example, let's say an email marketing SaaS wants to grow its email list from social media. The team may decide to create a lead magnet called "The Ultimate Guide to Email Marketing." When promoting the downloadable guide, they would let people know that there's no cost but a lot of valuable knowledge to gain. 
A benefit-oriented CTA will help you trigger more clicks, especially if you don't have a large following. Let readers know exactly what they stand to gain by engaging with your posts, and you can expect to see more clicks and conversions.
Engage Your Audience Through Clickable Social Media Content 
Social media is a great way for brands to connect with their customer-base. By creating engaging content, businesses are able to grow their brand, increase customer loyalty, and attract new leads. 
Businesses looking to get the most out of their social media strategy should focus on creating relevant and visually-appealing content. Relevance and reach are two major factors that determine who sees your posts. Meanwhile, visual content and interactive features encourage people who see your post to stick around and engage with your brand. 
Lastly, well-made call-to-action seals that deal and is the final element of a social media post that triggers clicks. 
Additional Reading 
Need help selecting a company?
Based on your budget, timeline, and specifications we can help you build a shortlist of companies that perfectly matches your project needs. Get started by submitting your project details.
Get Started