How an SEO Partnership Can Grow Your Business
Opting for an SEO partnership can be the first step in ensuring an effective SEO implementation. With SEO partnerships, your brand can be on the first page of search engine results and enjoy high audience engagement. A company's online presence is instrumental in increasing profits and expanding its audience reach.
SEO, or search engine optimization, is a marketing practice that helps direct traffic to your website. By ranking highly on search engine results pages (SERPs), you can attract users. 
Several factors impact how you rank online including: 
Keywords lead users to your website. Knowing what keywords are used for searching and making use of them increases your site's chances of landing on high spots on search results pages. 
Domain authority is dependent on how many reputable sites reference your website. When other sites reference your site, it's called a backlink. The more top-quality backlinks your site has, the higher your domain authority. 
Website mechanics pertain to things on your website like content quality, page interactivity, and loading speed. To boost user engagement, your website should have quality content that includes relevant information and fast loading speeds.
While many people falsely believe that SEO is simply keyword research, several factors impact search engine rankings. By targeting these factors, you can improve where your site ranks online. 
Dedicated SEO teams can help you organize these aspects of your digital marketing strategy. Outsourcing the SEO portion of a marketing strategy can increase web traffic and bring greater success with less stress. 
SEO companies conduct an audit of your websites, develop a customized SEO strategy, and implement plans that aid in reaching your business goals.
Here's what to expect when engaging with a reputable SEO company.
Need help selecting a company?
Based on your budget, timeline, and specifications we can help you build a shortlist of companies that perfectly matches your project needs. Get started by submitting your project details.
Get Started
What to Expect From an SEO Partnership
SEO Audit
Competitor comparison and analysis 
customized strategy
On-Page optimization
Off-page optimization
Regular reports
A dedicated account manager
Optimization development 
Planning to invest more in your SEO strategy? Check out these SEO packaged services. 
1. SEO Audit
SEO companies conduct an SEO audit in order to understand the current standing of your website, to know what its strengths and weaknesses are, and how it could be improved.
While there are SEO audit tools available online, some of them free, an expert taking an in-depth look at your website could give better insight. Note that an SEO company that doesn't offer an audit may simply use a template SEO strategy that may or may not work to the benefit of your company.
2. Competitor Comparison and Analysis
Looking at how your strategies fare in comparison to those of your competitors has always been a part of a good business strategy. A good SEO company will provide a competitor analysis as part of its services. Some SEO companies even make use of competitive analysis tools to make this service more efficient. 
Often, competitor analysis is done as an initial part of the strategy. However, some businesses should consider investing in regular competitor analysis. By keeping track of your competitors' progress, you can ensure that your company stays one step ahead.
3. Customized Strategy
A good SEO company will not only analyze your strengths, weaknesses, they will tailor their strategy to fulfill your needs, amplify your strengths, and cover those weaknesses.
A tailored SEO strategy is often more expensive, but it's well worth the cost. While a templated strategy is more affordable, it only covers the basics and may not be as effective in achieving particular goals. 
Also, a strategy used by your competitor may be effective in achieving their goals but does not necessarily mean it will help in achieving yours. 
4. On-Page Optimization
On-page optimization involves the elements of your website. It makes up a large portion of SEO services. On-page SEO service includes:
Sitemap creation
Website information architecture audit (includes internal linking structures and redirects)
Optimization of images, videos, and other media
Title tags, header tags, and meta description update
Website optimization with relevant keywords
Site speed, usability, and design analysis
5. Off-Page Optimization
Off-page optimization refers to the optimization factors external to your website that affect search result ranking. For example, Domain authority is part of off-page optimization. The amount of reputable and reliable sites that backlink to your website also factors into your ranking.
SEO providers can provide off-page optimization services such as:
Shareable content development
Website content promotion to bloggers and other reputable sites 
Monitoring of mentions across social media
By utilizing these resources, you can improve your off-page optimization and increase your rankings. 
6. Regular Reports
Regular performance reports give you an insight into how your campaign is performing and where your strategy can improve. It keeps you updated on your conversion rates, organic traffic, and search results rankings.
In addition to providing access to analytics tools, such as Google Analytics, SEO partners that provide reports can give you a more detailed analysis of how successful your efforts have been. 
For example, this screenshot of Google Analytics shows how your SEO partners can use these tools to measure success.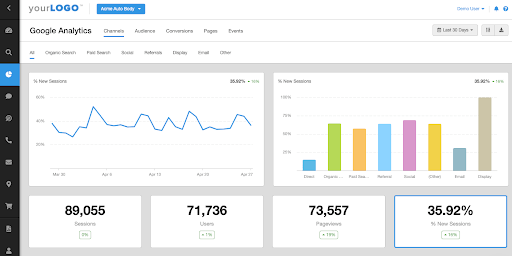 Source: Agency Analytics
They should be able to report on organic traffic, conversions, keyword rankings and more. By tracking changes over time, they can recognize patterns and make adjustments. 
When hiring a partner, be sure to communicate which metrics are most important for your business.
7. Dedicated Account Manager
Your SEO partner should assign a point person to your account. A dedicated account manager will review your reports and make it easier to communicate concerns and changes. This ensures that you and the SEO company stay on the same page.
8. Optimization Development
SEO is not a one-time strategy. A good SEO agency keeps itself updated with the trends and changes occurring in that space. An SEO partnership is a continuous partnership with your SEO company.
Your SEO partner should be able to continuously optimize your website and find ways to improve and enhance the strategy in place in order to earn more from SEO.
SEO Partnerships Can Strengthen Your Rankings 
With an SEO partnership, you can enjoy numerous benefits with minimal effort, including: 
Higher search engine ranking 
Increased visibility and website traffic 
Improved website usability 
Better user engagement rates 
An SEO partnership is an excellent strategic move because you'll be able to reach a wider audience and increase your ROI. Not to mention, having experts handle your SEO ensures a strategy that suits your needs and accomplishes your business goals.
Get started on your SEO strategy by connecting with top agencies today.
Need help selecting a company?
Based on your budget, timeline, and specifications we can help you build a shortlist of companies that perfectly matches your project needs. Get started by submitting your project details.
Get Started