Your Ecommerce SEO Checklist to Increase Traffic
How your e-commerce site ranks on search engine result pages can impact traffic and sales. Consequently, having a strong SEO strategy is of the utmost importance. Use this e-commerce SEO checklist to boost your rankings.
When it comes to running an e-commerce business, SEO is of the utmost importance. The top five Google search results get over 67% of user clicks, making it clear that having your pages and products appearing in those top spots can be a major factor in lead generation and revenue enhancement.
A strong SEO strategy can help your site earn top spots for the keywords that are relevant to your business, but with all of your competitors vying for the same spots, your SEO approach needs to be fine-tuned and highly efficient, with no stone left unturned. 
This guide will look at a checklist of key tasks to do and aspects to cover to make sure every part of your SEO campaign is on point.
Need help selecting a company?
Based on your budget, timeline, and specifications we can help you build a shortlist of companies that perfectly matches your project needs. Get started by submitting your project details.
Get Started
Ecommerce SEO Checklist
Lay the foundation for your site
Carry out keywords research 
Keep an eye on the competition
Use keywords in key places
Use Quality Title Tags and URL Keywords
Don't Forget About Alt Text and Image Names
Don't Fall Victim to Keyword Stuffing
Make the Most of Backlinks
1. Lay the Foundation for Your E-Commerce Site
Before you even get started on looking for keywords or creating content for your site, you need to build a strong foundation for your website. This means ensuring that your site is as SEO-friendly as possible, with fast loading times, search engine compatibility, and strong security. 
You should also instal a SSL certificate because it can play a big part in Google's algorithm. It also ensures that your site loads quickly by fixing any coding errors or broken links. Be sure to test your site on mobile devices too and verify that it works well on smaller screens.
2. Carry Out Keyword Research
SEO campaigns are all about ranking highly for certain keywords. Through keyword research, you can determine which terms are relevant for your business and which words you could rank for. 
Keyword research is designed to uncover the words and phrases that people use to find information on search engine results pages (SERPs), whether that's a business, product, service, or other type of content . You'll need to research keyword search volumes and competition, and there are various SEO tools out there to help you do this. 
3. Keep an Eye on the Competition
The e-commerce landscape is highly competitive; there are always going to be other businesses that offer similar products or services and are vying for the same audience as your business. You have to keep track of what the competition is doing if you want to stay one step ahead of them. 
Tools, such as the Audience Overlap Tool, can help you identify the competition and make lists of your competitors.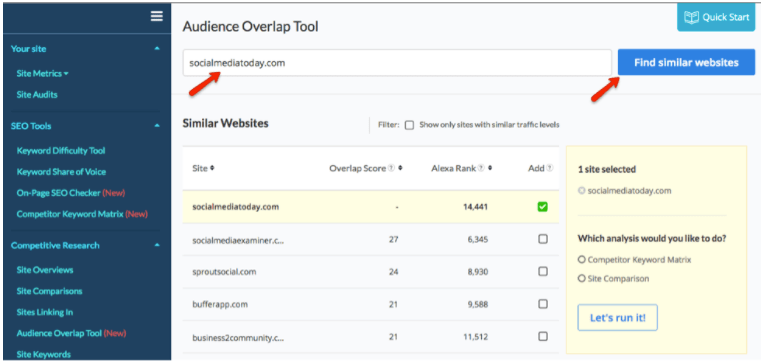 Source: Alexa
You can also use competitor keyword analysis tools to find out what keywords are working for your competitors and find potential areas to exploit and words they're not ranking well for.
4. Use Keywords in Key Places
Once you've identified some useful keywords for your SEO efforts, you need to make sure that you're using them correctly and placing them in all the right places. Producing pages and posts with keywords is an important part of any SEO campaign. 
However, it's not enough to simply place the keywords throughout the main body of your posts. You need to put those words in the spotlight by including them in the most important parts of the page: the headings. Your H1 heading, for example, is the most important line of text on your page. It has to have relevant keywords in it, and those keywords should be present in H2s, as well.
5. Use Quality Title Tags and URL Keywords
Title tags are another key part of your SEO campaign's content. They're usually the first bit of text that users will see when browsing through Google's search results, and those few words can be the "make or break" factor that can influence people to click or push them away. 
The title tags, therefore, need to include important and relevant keywords, link directly to the appropriate pages, and not be too wordy or confusing in any way. Referencing keywords in your page URLs can also be important, helping both prospective visitors and Google itself see what your pages are all about.
6. Don't Forget About Alt Text and Image Names
This part of the process is often overlooked but can make a real difference to your organic traffic levels and search engine rankings. If your content contains images, you have to make sure to edit the associated alt text and file names for those images. 
Google actually looks at the alt text to learn more about an image's context, which can aid with rankings, and it will also look at image titles, too. So, if you're simply uploading images from a device with names like 040191.jpg, you could be missing out on SEO opportunities.
7. Don't Keyword Stuff
It's very important to use keywords correctly in your content if you want to rank more highly. However, you can't make the mistake of simply shoving as many keywords as possible onto a page and hoping for the best. 
This is what is known as "keyword stuffing" and it's a serious thing to avoid when it comes to effective SEO. Too many keywords look "spammy" and it can actually hurt your rankings. 
Check your content before publication to make sure that it isn't overloaded with keywords or that the same keyword isn't repeated over and over again, rendering the content unreadable or unnatural.
8. Make the Most of Backlinks
Last but certainly not least, you must think about how your site will earn backlinks. Backlinks are links from other sites and they're one of the best ways of building authority. They signal to Google that you have authority on a subject, proving that your site can be trusted. 
There are various ways to establish backlinks, such as establishing partnerships with other businesses or writing guest posts for other sites. 
9. Cover All the Bases to Make Your SEO Campaigns as Effective as Possible
And there you have it, a checklist of all the key areas to cover to make sure that your SEO campaigns really get results. If any single step of this list is left undone, your SEO efforts might not truly bear fruit. Be sure to cover all the bases, from creating a mobile friendly site to keyword research, these items can really boost your Google rankings.
If you're not able to execute these tasks on your own, hire an SEO company to take over your strategy. As experts in their field, they're familiar with these strategies and will be able to boost your rankings.
Need help selecting a company?
Based on your budget, timeline, and specifications we can help you build a shortlist of companies that perfectly matches your project needs. Get started by submitting your project details.
Get Started