Graphic Design Mission Statement: How To Create Your Own
Most successful graphics agencies have a graphic design mission statement to give people a broad overview of what they're hoping to achieve through the agency. While short and sweet, these statements have a sizable impact on people's understanding of your business.
Graphic design mission statements are key to communicating core company values by answering an important question: why are you providing these services in the first place. What are your goals? Besides being an important industry standard, a mission statement helps your business by developing a sense of purpose and culture for your business. Customers and prospective employees will get a better sense of your company through a mission statement. This article will define a graphic design mission statement and detail how companies can craft one of their own.

What Is a Graphic Design Mission Statement?
A graphic design mission statement is a short summary of your goals and purpose as a designer or agency. It sheds light on your brand identity, values, and value proposition. In using a graphic design mission statement to succinctly define key aspects of your business, you are developing internal team culture while showcasing your offerings for potential customers. A mission statement is an important standard across industries. In visual-first industries like graphic design, it can be especially important to put your goals to words. Graphic design mission statements aid you in that process.
Showcase Brand and Company Values
If you're aiming to draft a mission statement for your graphic design services, it's important to feature your values as a brand through the statement. Two-thirds of Americans prefer to work with brands and companies that reflect the same values as them. This makes transparency especially critical. Prospective customers will be looking for your values when considering your candidacy for a project. Make sure they're easy to find. Graphic design house ThompsonStenning showcases its values and mission clearly and transparently. The agency lists its mission, beliefs, and history together on the "About" page of its website.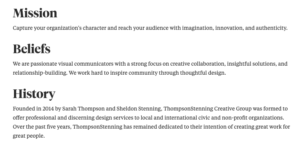 Source: ThompsonStenning Their mission statement is short: "Capture your organization's character and reach your audience with imagination, innovation, and authenticity." However, some key company goals exist within the statement itself. By reading the statement, customers know that this agency is focused on creativity and producing designs that genuinely reflect a brand. Customers wishing to learn more about this mission are able to read on to the beliefs section, where they go into depth on values. Presenting a mission statement alongside values is helpful to consumers wanting to learn more about your services.
Demonstrate Your Company Vision
All creative companies need a solid vision or set of goals. This helps businesses establish their own internal measures of success. Additionally, it allows companies to share their aims with prospective clients in search of alignment. By reading your mission statement, customers should be able to understand your value. They want to know what they will get out of a partnership with you before hiring you. A mission statement can paint a picture of what a successful collaboration with you will look like. The Yard Creative handles sharing its mission effortlessly on its website. Listed prominently along with other helpful information on the company is a statement that clearly details what the company works to achieve through collaboration.

Source: The Yard Creative The statement highlights who the team is while also identifying the company's ideal customer. It reads, "We are creative catalysts, partnering with brands that want to challenge their sector." Customers learn about an important agency vision in reading this statement: its desire to use creativity while working with customers that are ready to disrupt their industries. This vision characterizes The Yard Creative customers and encourages those who align with these goals to explore a relationship with them. Demonstrating your vision for your clients is critical to a solid graphic design mission statement.
Highlight Your Core Goals
Goals should be highlighted prominently within your mission statement. After all, stating your desired achievements will help customers ensure they align with your mission. Effective alignment between your team and your clients will ensure that your collaboration will go smoothly. The earlier you align your goals, the better. Your mission statement can serve to align on goals before your customer even reaches out to you. Graphic design agency Marquis Design displays its goals within a mission statement effectively on its website. The statement is only a sentence long. However, it emphasizes core goals for customer service, collaboration, and results.

Source: Marquis Design The statement reads: "We're a team of brand strategists, designers, and writers driven by a singular purpose: to elevate, celebrate, and advance your business." Not only are the collaborative goals listed out together, but they're also in bold type and all capital letters. The type and formatting highlight the agency's goals for their collaborations prominently, so prospective clients are clear on what the agency aims to achieve through its services. This means that clients can enter conversations with this agency expecting that their brand will be elevated, celebrated, and advanced through a partnership. Using Marquis Design as a source of inspiration, ensure that your graphic design mission statement showcases collaborative goals. This will drive prospective clients toward interest and alignment with your services.
Encourage Clients With a Graphic Design Mission Statement
When clients are researching potential graphic design partners for upcoming projects, they will look for a mission statement to align on goals, values, and vision. A mission statement will encourage transparency, understanding, and alignment on goals at the very beginning of a collaboration. Companies should consider developing their own to communicate values, visions, and collaborative company goals.
Need help selecting a company?
Based on your budget, timeline, and specifications we can help you build a shortlist of companies that perfectly matches your project needs. Get started by submitting your project details.
Get Started