7 SaaS Marketing Strategies to Attract Customers Online
Marketing is essential for software as a service (SaaS) companies looking to boost brand awareness, attract leads, and convert customers. Improve your SaaS marketing strategy with these tips. 
Need help selecting a company?
Based on your budget, timeline, and specifications we can help you build a shortlist of companies that perfectly matches your project needs. Get started by submitting your project details.
Get Started
What is SaaS Marketing? 
SaaS marketing is the promotion of software as a service (SaaS) companies and products with the goal of acquiring leads and new customers. Often, this includes digital marketing strategies such as: 
SEO 
Content marketing 
PPC ads 
Social media 
Affiliate marketing
Marketing is paramount for SaaS companies looking to increase brand awareness, grow leads, and convert customers. 
Compared to other industries, B2B SaaS companies have longer sales cycles. This is because partnerships are often long-term and costly. Rather than buying the wrong software product, clients are dedicated to finding the best solution for their business and will spend significant amounts of time conducting research into various solutions. 
By investing in customer research and feedback, SaaS companies can get a better understanding of what their customers are looking for. 
With this information, they can create new content that improves their visibility online and answers their customers' questions. 
Digital marketing strategies can help SaaS companies attract new customers and convert existing leads. 
This blog post highlights seven SaaS marketing strategies that can help companies attract leads and convert customers.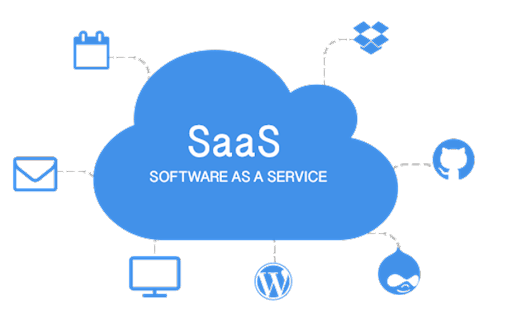 Image source 
 
 7 SaaS Marketing Strategies
1. Define Buyer Personas
Creating a product is one thing, knowing the clients to target is another. 
A buyer persona represents an ideal consumer. An entity that requires your product to scale through their day-to-day activities fluidly. Knowing this ideal customer helps you direct your marketing efforts towards an interested audience, ensuring you reach the right people with the right message at the right time.
Indeed, advising startups to build multiple buyer personas is common in the B2B space. However, it's imperative that the buyer personas are based on data from consumer research. 
SaaS marketers miss the mark when they mistake the buyer persona-building process for art instead of science. There are no assumptions or need for artistic literacy in the buyer persona-building process. It's a strictly mathematical process with defined answers.
To create a buyer persona, companies should look through their existing customers to identify patterns. Consider details such as:
Position or title
Age
Spending power
Company size (particularly if you're in the B2B industry)
Interests
Challenges
SaaS marketers should be able to use this information to group similar buyers. With this information, they can create marketing strategies that appeal directly to each persona. 
Before outsourcing your SaaS marketing activities to a marketing brand or an individual marketer—or if you're going about it yourself—ensure you have a streamlined, tested/trusted process for defining buyer personas.
Additional reading, 'Step-by-Step Guide to Defining Your Buyer Persona.' 
2. Encourage Feedback
Hundreds of consumers will unflinchingly pay a premium for SaaS products with lots of feedback and reviews. The reason is simple — consumers trust them. Positive reviews can increase credibility and build trust in a brand. 
Additionally, reviews often rank highly on search engine results pages (SERPs), which improves visibility and increases traffic to the company's website. 
Finally, online reviews provide useful customer feedback that can help businesses improve their products. 
While many businesses dread feedback, we'll advise you to quell your nerves, learn how to withstand criticism, and insert a feedback and rating loop in your overall strategy. 
Feedbacks help you detect patterns and trends not apparent to your product management team. It allows consumers to voice their concerns and gives you enough information to stay ahead of the curve. 
Whether via SMS, emails, social media, or SEO, look for ways to collect feedback.
Additional reading, '6 Tips for Increasing Positive Online Reviews.' 
3. Invest in Content Marketing
Content market is a really valuable strategy for SaaS companies because  engaging content drives users through the marketing funnel and builds thought leadership. As such, it's important that SaaS companies regularly produce blog posts, videos, infographics, or social media that pertain to their product. 
Additionally, content marketing is a great strategy for companies looking to improve their site's search engine optimization (SEO). 
However, it's important that companies produce valuable content for their customers. Not too long ago, most experts wanted to flood the internet with as many articles as possible and rank for every keyword in their industry. But the result was generic content that didn't provide a lot of value to readers.  
Thanks to Google's regular algorithm updates, this strategy no longer does well. Poorly written articles rarely make the first page of SERPs, forcing companies to invest in high-quality content. 
They can do this by creating new content that matches their customer's search intent or repurposing existing content. 
By repurposing old content that isn't performing well, companies can target new keywords and boost their rankings for content they already have. This costs less to produce and can provide quick results.  
4. Target Keywords
Keyword research is essential whether you plan to develop an SEO campaign, content marketing strategy, or PPC ads. This process helps companies identify what their customers are searching for so they can create content or ads that appear in search results and answer customers' questions. 
Keyword research tools such as Ahrefs, Semrush, and Moz help marketers determine:
Which terms potential customers are searching for 
How many people are searching for them 
How difficult it is to rank for them
When determining which keywords to target, marketers must decide whether they want to target more difficult keywords with a larger search volume or keywords they're likely to rank for, but have a smaller search volume. 
Long-tailed keywords or phrases that are very specific, for example, are often easier to rank for because they have a lower search volume and there is less competition. 
If you're choosing between a long-tailed keyword and a more popular keyword, consider other ranking factors like your site's domain authority. Smaller websites are less likely to rank, so they may want to target long-tailed keywords, but more credible companies may want to target stronger keywords. 
Pro Tip: Select a keyword and create content ideas based on that keyword. Scour for delicate content ideas, then find keywords in line with the idea to create meaningful content for your readers. 
Additional reading, 'How to Run SEO Campaigns for SaaS Companies.'
5. Invest in Referral Programs
The SaaS business model thrives on recurring fees and lifetime customers. Every thread is interlinked. Each sale leads to the next. And existing customers pave the way for new ones to come in.
At all points of the SaaS sales cycle, you would come across these three consumers; paying customers, loyal users, and willing promoters. Any of these factions of consumers can and might be interested in your referral program, depending on their experience with your product.
To get your referrals, your best bet at success is to work with loyal users and willing promoters—these are consumers with a reputable track record in using your product.
Send a referral program link to clients who have either left positive reviews or feedback on your product. You can also solicit individuals who have been using your product for a few weeks or months.
6. Embrace Personalization
SaaS businesses can't overemphasize the need for personalized messaging. Nowadays, personalized messaging entails more than just names and addresses. It now involves keeping track of consumers' every interaction with your brand in a conscious effort to meet them with the right marketing message when they need it.
If you are searching for a way to send personalized emails, we suggest using Sender. 
In-built marketing tools make it a breeze to quickly and efficiently build emails and nourish marketing campaigns with a complete arsenal of powerful features. 
Multichannel automation, which combines email + SMS channels, is a great way to create compelling customer journeys and effective campaigns. 
For instance, if you run a SaaS platform that helps e-commerce businesses keep track of the goods in their store. You will have to optimize your app's update to inform consumers a few days or weeks before they run out of a particular product, meaning you will have to work with consumers' behavioral data. 
Companies need to embrace personalization as a marketing strategy because meeting clients at their moment of need heightens the credibility of your product and shows consumers that you care about their growth process—paving the way for better referrals and loyal customers.
7. Retarget Consumers
Statistics show that acquiring a new customer will cost you seven times more than retaining an old one. So if you've got a solid customer base, do your best to keep them satisfied.
Retargeting skeptical consumers is a sure-fire way for startup SaaS businesses to build a sustainable customer base. 
Draft your marketing strategy to accommodate the needs of consumers sitting on the fence. For instance, you can use abandoned cart emails or discount SMS  to get cart abandoners back to buying ways. You can also optimize your website to collect behavioral data, automatically offering a discount or free trials to first-time consumers.
Additional reading, 'CRM Retargeting: Remarketing to Existing Customers.'
Top SaaS Marketing Agencies (Based on Region)
Marketing Companies in the Northeast
Marketing Companies on the West Coast
Marketing Companies in the Midwest and Rockies
Marketing Companies in the South 
Invest in SaaS Marketing to Grow Your Business
Many SaaS brands fold up within their first two years in business because they ignore or misuse essential marketing strategies. Investing in emails, SMS, PPC, SEO, and social media platforms would win you new clients and help your business survive stormy winds.
But to thrive, you need to include foundational strategies with a tried/tested approach in your marketing endeavors. Please don't settle for generic marketing strategies; they aren't built to stand the test of time.
Be sure to draft well-researched personas, invest in feedback and work with a content creation process that allows you to repurpose content fluidly. Good luck.
Additional Reading
Need help selecting a company?
Based on your budget, timeline, and specifications we can help you build a shortlist of companies that perfectly matches your project needs. Get started by submitting your project details.
Get Started