What Are Email Leads & How to Grow Your Email List
Email marketing is an effective way to nurture leads and engage customers, but gathering email leads can be challenging. Here are five ways to grow your email list. 
Email leads represent the people who are interested in your email marketing efforts. By collecting customer information, such as their name and email address, you can grow your email list and maintain communication with top customers. 
As a form of digital direct marketing, email marketing can help you nurture leads, increase sales, and grow your base of loyal and returning customers. 
Here's how you can engage email leads and grow your contact list.
Need help selecting a company?
Based on your budget, timeline, and specifications we can help you build a shortlist of companies that perfectly matches your project needs. Get started by submitting your project details.
Get Started
Steps to Grow Your Email Leads
Add subscription buttons to your website 
Create original blog content 
Promote your email list 
Provide valuable email content 
Offer discounts 
1. Add Subscription Buttons to Your Website
Your website is where people come to get to know your brand as well as the products and services you provide. 
A subscription form allows people to input their information in order to receive regular information from your brand 
Where you put your subscription form can impact the number of email leads you generate. Here are a few ideas on where you can include your subscription form on your website: 
Order & fulfillment process
Pop-ups
Banners, sidebars & footers 
Order and Fulfillment Process
The best time to prompt customers to join your email list is during the checkout process. At this point, your audience has already converted, but by maintaining communication with them after the purchase can increase the likelihood of them making a purchase again in the future. 
In fact, the probability of selling to an existing customer can be as high as 70%, while only 5–20% of new customers will convert. As a result, retargeting those customers is an effective way to grow sales. 
BOIE, a sustainable personal hygiene company, uses this tactic to generate email leads. When customers provide their contact information during checkout, they're prompted to opt-in to BOIE's email list. 


Source: Boie
By clicking on the bubble next to "Email me with news and offers," customers will receive information about how BOIE recycles their materials, get deals on new products, and will be alerted when items go on sale. 
Pop-ups 
Pop-ups are windows that suddenly appear in the foreground of a company's website. They're popular because they make a website's call-to-action (CTA) more prominent, so customers are guaranteed to see them while browsing the site. 
For example, Jolyn, a swimwear company, uses a pop-up to generate email leads on their website.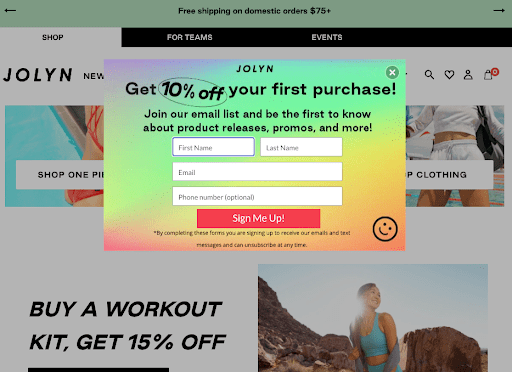 Source: Jolyn 
New customers simply have to enter their name, email, and phone number to opt-in to their email list. 
However, pop-ups can be annoying for customers and can negatively impact the user experience (UX). If you choose to include a pop-up on your website, make sure there is a clear way to exit the window so users can access the rest of your content. 
Banners, Footers & Sidebars 
Ensure that readers are able to subscribe to your email list on any page of your site by adding a registration form either on the top banner, footer, or sidebars of your site. 
For example, Optinmonster, an email marketing company, includes their subscription form on their sidebar.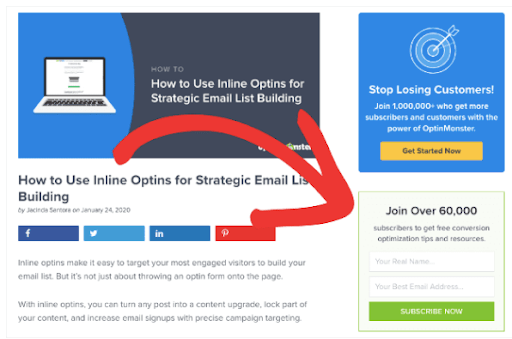 Source: Optinmonster
The CTA is visible as users scroll through the site and can access it at any point. Additionally, the CTA is bright green, so it stands out to new users. 
2. Create Original Blog Content
Original content adds value to your readers. The more information and resources you're able to provide, the more engaged they will be with your content. 
Blog content can help attract new customers to your site and helps your business demonstrate its industry authority. 
Add a CTA to your blog so readers can receive alerts about news, case studies, and articles that your company posts online. 
3. Promote Your Email List 
Promote your newsletter by including links on your social media accounts and in your email signature. This will notify existing followers and customers about your email efforts. 
Business pages on Facebook, for example, are able to include sign up buttons. 
You can also encourage existing subscribers to share your email content with other potential readers. 
CTAs that ask readers to share content are surprisingly effective. People generally like to share content that they enjoy because it helps them build relationships and connect with other people. 
You can also encourage loyal subscribers to share on social media by including buttons that automatically share email content on LinkedIn, Facebook, and Twitter. 
4. Provide Valuable Email Content 
Similar to your blog content, the more useful your emails are, the more likely people will want to sign up for them. 
Whether your emails provide industry-specific news or notifications about upcoming sales, your readers should feel compelled to open your emails. Otherwise, they will unsubscribe. 
By describing exactly what they can expect from your company emails, users can get excited about what you send to their inboxes. 
For example, ActiveCampaign uses a pop-up to generate email leads. However, they clearly state what value they will provide through their email content. 
By signing up, users will get more information about how to create an email campaign, what their welcome series should look like, and how it will affect their bottom line.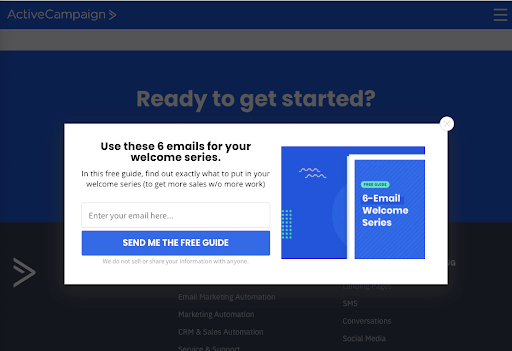 Source: ActiveCampaign
On top of that, businesses will see high engagement rates from customers who rely on your emails to make informed business decisions, stay up to date on news and trends, or who actively interact with your brand. 
5. Offer Discounts
Everybody loves a good sale. You can always incentivize customers to enroll in your email list if they can get a discount or coupon code. 
For example, David's Bridal offers 10% off for people who provide their email address.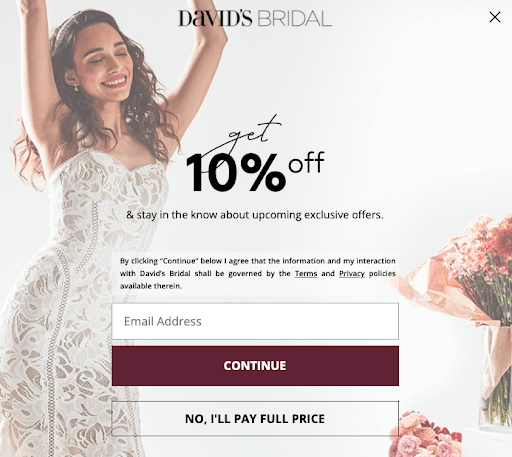 Source: David's Bridal
Their point is driven home  by the button used to decline their offer. Using "No, I'll Pay Full Price" makes readers think twice about declining to provide their email address. 
At the same time, they know that they could receive exclusive offers and discounts in the future. Clearly, subscribing to their email list provides monetary value to their customers. 
Earn More Email Leads for an Effective Campaign
Email marketing is an effective strategy that can attract new customers and attract returning buyers. 
However, building an email list that targets the right audience can be tricky. You must be able to promote your emails to earn subscribers. 
By composing thought-provoking blog content and adding opt-in forms to your website, you can encourage readers to subscribe to your newsletters. 
At the same time, you're able to establish your business as an industry leader and encourage customers to share your information on their platforms, attracting new leads.  
Other tactics, such as discounts and incentives, can bring returning buyers back to your website. 
Contact a digital marketing agency to create a custom email marketing campaign that can grow your business.
Need help selecting a company?
Based on your budget, timeline, and specifications we can help you build a shortlist of companies that perfectly matches your project needs. Get started by submitting your project details.
Get Started