Benefits of Digital Marketing vs. Social Media Marketing
For companies looking to grow brand awareness and generate sales online, digital marketing and social media marketing (SMM) are two extraordinarily effective strategies that can:
Grow brand awareness
Generate sales
Build credibility
While digital marketing uses a variety of digital channels to promote products and services online, SMM specifically refers to social media channels such as Twitter, Facebook, Instagram, Pinterest, and YouTube to connect with customers. Although they're very similar — in fact, social media marketing is a form of digital marketing — one may be better for your business than the other. This forces businesses to ask: how can we get the most bang for our buck? The truth is that the answer varies depending on your business and industry. To determine the best strategy for your company, you must understand the ins and outs of both digital marketing and social media marketing.
Need help selecting a company?
Based on your budget, timeline, and specifications we can help you build a shortlist of companies that perfectly matches your project needs. Get started by submitting your project details.
Get Started
The Benefits of Digital Marketing
Digital marketing is a general term that can refer to numerous online marketing tactics including:
SEO
PPC
Mobile advertising
Email marketing
Content marketing
Social media marketing
In 2020, people spent more time online than ever before. Consequently, it has become more important for companies to have and manage a strong online presence to build their credibility. No matter what strategies your company employs, digital marketing is a cost-effective way to expand your reach. With budgeting features built into several marketing platforms, you can easily control your spending and increase your return on investment (ROI). Because of its broad scope, however, businesses should consider a digital marketing company to help identify the best digital marketing strategies for their needs. Compared to TV advertising and other legacy media such as radio and magazine ads, digital strategies also make it easy to measure your success. For example, a TV advertiser may know how many televisions are tuned into a show, there's no way to guarantee that all those people watched your commercial. In comparison, you can measure the impact it has on traffic to your site, conversion rates, and more once you implement a digital marketing campaign. With this information, you can easily make adjustments to make your campaigns even more effective.
How is Social Media Marketing Different Than Digital Marketing?
Social media marketing is a unique form of digital marketing that involves creating content for posts and paid ad campaigns specifically for social media platforms. SMM is particularly valuable because it allows companies to connect with customers where they spend the most time. In fact, people spend roughly two and a half hours scrolling through social media daily. By targeting customers on Twitter, Facebook, Instagram, Pinterest, TikTok, and YouTube, companies can increase engagement, expand brand awareness, and grow sales in a completely different way than they would be able to through other channels. Specifically, social media allows companies to engage with their customers directly. They can respond to comments, direct message potential customers, and share content, helping them develop strong customer relationships and build customer loyalty. Other digital marketing channels, such as SEO and content marketing, may not have the same opportunity of direct engagement to the same degree as social media. In addition to measuring the traffic and sales generated through their campaigns, social media marketers keep track of the likes, comments, shares, and followers. This type of engagement can improve your brand visibility, especially among younger demographics. These metrics provide valuable insight into what your customers find interesting and how you can keep them engaged with your brand. Because social media marketing is instantaneous, your company is able to respond quickly to these insights to get the most out of your campaign.
The Shortcomings of Social Media Marketing
Although social media can help you boost name recognition and brand loyalty, it does require a lot of work in order to be effective. You must continually post new content to grab your audience's attention, which can be time-consuming and difficult. Additionally, there is some debate over how effective it really is: According to a 2017 report, both organic social media and paid social media ads had some of the lowest ROI compared to other digital marketing strategies.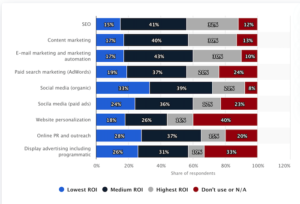 Source: Statista It also has a limited reach: you only can market to social media users, which are generally younger. Consequently, it might not be the best fit for your company depending on your industry and target demographic. Broader digital marketing efforts, on the other hand, allow you to target a larger audience. To target social media users with some granularity, consider a social media consultant partner with a proven ability to drive ROI through social.
Choosing the Best Strategy for Your Company
Social media marketing is one part of a broader digital marketing landscape. Can it be valuable for your business? Yes, but it's also hard work. Before you invest in an extensive social media marketing campaign, make sure that it is the most effective way for you to spend your marketing budget. At the same time, carefully consider the resources you have and whether or not you have the time to allocate to your social media strategy. Be sure to reflect on your goals. Although social media is a great way to expand brand awareness, build customer relationships, and foster brand loyalty, other digital marketing strategies often receive a higher ROI. Finally, consider your audience. Social media users are generally younger — does your target audience fit this demographic? If not, consider other digital marketing tactics such as PPC, SEO, and email marketing.  
Need help selecting a company?
Based on your budget, timeline, and specifications we can help you build a shortlist of companies that perfectly matches your project needs. Get started by submitting your project details.
Get Started